Malta and Devizes 2009
An across Europe jaunt by a Fifty-five year old fart aboard a Twenty-five year old Kawasaki Gpz900r motorcycle.

Aim, to attend the 11th of July 2009 Gpz Owners Club gathering in Devizes (Uk), to celebrate

the 25th anniversary since first production of the Kawasaki Gpz900r in 1984.
Picture an island city-state, adrift in the middle sea to the south of Sicily

Imagine me on the 14th June, in a room in Floriana, sitting at the Half-Italienne's e-mac,

reviewing an e-mail received from "support@gpzzone.co.uk."
---
Ladies and Gentlemen,
There are now only 4 weeks before the GPZ's 25th Birthday party celebrations in Devizes, Wiltshire.
Numbers are increasing slowly, and I will in a week or so, be throwing the event open to a wider audience if the capacity remains available to us.
We have members attending from Germany, Denmark, and Ireland, and the event is sure to be a success.
Full information is available on the forum, or at www.gpz900r.co.uk/eurofest.html alternatively you can ring me to discuss it on 01380 860641
Be sure to book your place, it really is by prior booking only.
Best wishes
Craig Davies
support@gpzzone.co.uk
---
Meanwhile, my son Ronnie was visiting Malta ...
... so, naturally, we were busy doing Father & Son on holiday stuff until Ronson returned to Ireland towards the end of June.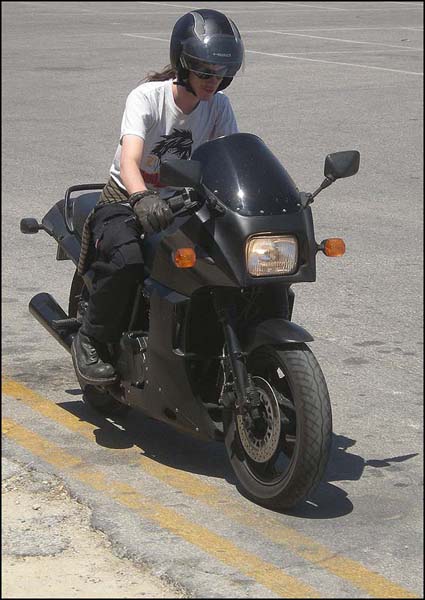 But not before A Rites of Passage moment - Son gets first ever go on Father's 900
---
Monday 29th of June
Awake early, laying in bed, staring through the mosquito net at the ceiling above, while thinking about the number of necessary Ninja pre-flight preparation jobs to be completed before embarking upon a 2,000'ish mile jaunt to Devizes aboard the 900 for the Gpz's 25th Birthday party celebrations.
Pondering, pondering, just how long might it take to travel from Malta to the Uk? And, as there is no point in arriving a day or two late … how much extra travelling time should I allow for any setbacks encountered on the way there?
And, at my age, how mad am I to be really seriously consider doing this trip?
But, it's attending a one-off event. If not decided upon and acted upon now, it never again can be.
So,
Should I sensibly stay …
Or should I go … ?
"Fuckit … Why Not Do It … Go!"
"Whazzat whynot, Qalbi ?"
A brief explanation of my reasoning resulting in the decision to go North is given to the sleepy Half-Italienne, who immediately understanding the unique nature of the Gpz900 25th anniversary celebration, gave her blessing to the mission, while also regretting not being well enough herself to come along for the ride. A shame, cos Ms.B., really is the perfect pillion.
Later that day – Translapate with a top box full of assorted Gpz spare parts to the generous Mr. DINGLI's San Gwann Garage No.2, where the 900 is kept safe and secure.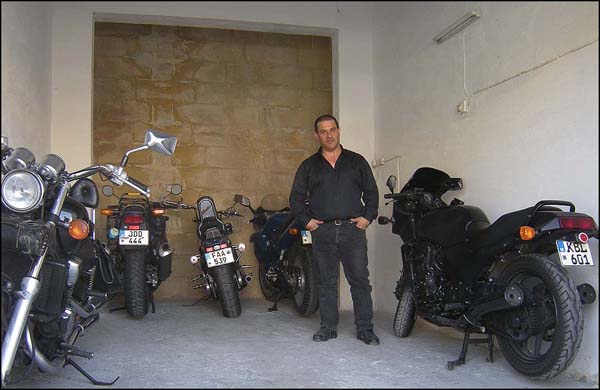 Thanks Mr.D.!
Swap Transalp for 900.
Take 900 for a pleasant afternoon spin along the few smooth roads of the island to warm things up prior to the draining of the engine oil and the removing of the oil filter. Stop en route for a careful jet-washing of the Gpz, so as not to be encountering too much crud about the Ninja nether regions. Then carry on cruising for a wee while more … a blow dry job on a sunny day, ah, so pleasant!
Return to Mr. D.'s San Gwann Garage No.1, which contains the orderly assortment of tools and the sturdy red bike lift and the nifty digital interweb radio and the water cooler and pretty much anything necessary to promote good mechanical motorcycle works.
Up goes the lift with my Gpz on it, off comes the lower fairing, out come the drain bolts and hot old oil sploooshes out into the always filthy old oil tray (How is it that that first gush of expelled oil always manages to defy gravity and spurt back up out of the catchment receptacle to always land most messily on the floor? … ah well, that's what tissues and old T-shirts are for). Leave the engine to drip the last of the old oil out, whilst I replace some other old bolts with shiny new stainless steel sent south to me from The GpzZone.
Remove the old ally washers and clean the drain bolt threads, then apply new ally washers with a smear of that orange Loctite Form-a-gasket stuff on 'em, pop the drain bolts back into place and do them up finger tight, then set the torque wrench to 22ft/lb and tighten the front drain bolt - done, rear drain bolt revolves but not tightening … I get that sickening feeling. Back it out and sure enough, after 25 years of careful tightening, the demons of degeneration conspire to have the drain plug hole thread start stripping Now – BolloxBolloxBollox !
What to do, what to do? Loctite it in place ...? Nah, not peace of mind secure enough. I don't wanna risk the lowest sump drain bolt falling out unexpectedly somewhere between the front door and Devizes (I once had a similar suddenly-gone-sump-drain-bolt-experience whilst driving a Morris Minor Van West-bound along a December night dark M4. Engine went from reliable to wrecked in the time it took to realise-there-was-a-problem-hard-on-the- clutch-and-coast-to-a-halt-on-the-hard-shoulder. AA, because you're worth it).
But what to do, what to do? I have no heli-coil set of the right size to hand ... and Now is woefully far too late in the day to rush out and get Time-serts. Bah! A job for tomorrow. So, I carry on doing the necessary do, remove the oil lines and take off the sump/oil-pan ready for repair … and while I'm there, whip out the oil pump so as to pop one of Mr.MadMacks Very Precise (and now I am given to understand Very Rare) Replacement Oil Relief Valves in to it.
But distracted by Mr. & Mrs.D, with the offer of tea and biscuits and chat above in their flat, until it's rather too late to do anything other than head off home to bed - rather later than intended ... but before snoozing, post a report of doings upon the Gpz900 OC Forum.
---
Gpz900 OC Forum
30-06-2009, 01:02
©-©
Great Expectations ... ooops!
Hot garage somewhere upon an island in the middle sea, about teatime'ish Monday 29th of June, 2009.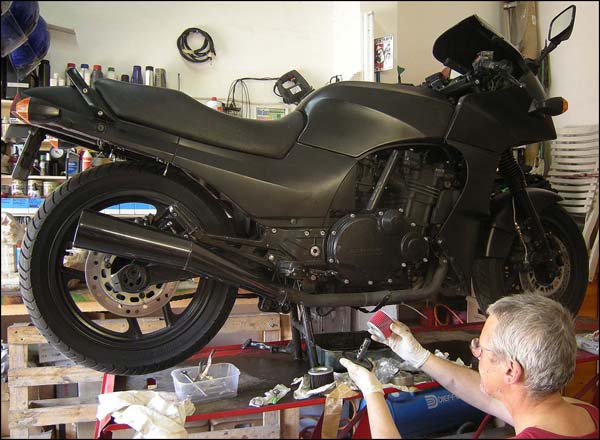 Yours, Old Fart, Truly, doing the 68286 mile oil and filter change ... moments before the thread for the sump drain plug (the plug closest to the filter) let loose ... BolloxBolloxBollox ... after Twenty Five years of careful tightening of sump bolts, now, with a ferry to Sicily to catch on Friday, the bloody sump thread is buggered !!!
What pitch M12 Wurth 'Time-serts,' ... anyone?
---
Tuesday 30th June.
Meanwhile, back in Mr.D.'s garage, remove clutch cover and get busy replacing old clutch friction plates and clutch springs. Despite proper clutch holding tool, can't undo that pesky self-locking clutch-hub nut ... not wanting to risk damage by utilisation of brute force and leverage, leave well enough alone.
Next, drain out the old the coolant, remove the radiator and take off the original plastic fan and replace it with an aluminum Muzzy fan recently supplied to me by that ever so helpful Mr.D, of www.gpz900r.co.uk (just as the Maltese Mr.D. arrives. He sees the Muzzy and unfavourably compares its lower pitch and fewer blades to the specifically designed for the job Kawasaki original … To his engineers eye, he reckons the Muzzy will be less efficient and thus will necessitate the fan motor being on, running for longer). Humpf … engineers.
We drive off to Naxxar, to Mr. Kulooloos' motorcycle workshop to purchase some 10w 40 synthetic oil for the 900 …. On the way I rehearse "Tini sitt litri taz-zejt ghal moto, jekk joghgbok" the Maltese for 'Can I have six litres of motorcycle oil, please.' (ajma! it's Expensive Stuff). I need 4 litres for the oil change and 2 x 1 litre spares for any topping up needed during the forthcoming journey. Get 4 litres of fresh coolant too.
Back to Mr.Dingli's San Gwann garage, re-fit radiator, attach hoses, pour new coolant into the rad, then bleed the air outta the cooling system.
Starting to worry about not finding or knowing what torque setting to tighten Mr.MadMacks-Very-Precise-Replacement-Oil-Relief-Valve to !
Back to Floriana late, e-mac switched on to ask Mr.MadMacks about torque …
---
Gpz900 OC Forum
30-06-2009, 22:29
©-©
Torque ?
First edition Gpz 900 Service Manual - February 1984.
Engine Lubrication System 6-9
-
Oil Pump and Relief Valve Installation notes
• Apply a non-permanent locking agent to the threads of the Relief Valve, and torque it to the specified (see Exploded View).
-
Ok. But my edition shows no torque setting info for the Relief Valve ?
Any of you, with more recent editions, have the answer ?
---
Wednesday 1st July.
---
Gpz900 OC Forum
01-07-2009, 00:20
MadMacks - Administrator
Re: Slight set backs, not at all
Hey Mr.©,
Have trawled every service manual at my disposal and none list a torque figure for the relief, nothing even mentioned in ZZR1100 ones either.
The locking agent will however give the reassurance that it'll not break free and that's from experience
All you need do is ensure there's no oily residue on the male or female threads, a wipe with a wrag soaked in thinners does the job, apply a thin coat of thread lock to the relief thread, just nip up the relief in the pump housing and wipe off any excess thread lock that squeezes out.
Tried & tested method and with the MadMacks seal of approval too.
Hopefully sorted your dilema through lack of proper info,
Craig M.
MadMacks®
---
Eventually find out where the Maltese Wurth stockist can be found … DRZ rapidly through Maltese traffic to Wurth stockist address in Qormi, taking 900 oil-pan and drain bolt to show what exactly needs repairing.
Very helpful men at Wurth search and find what I need to purchase, two suitable Time-serts and the correct thread tapping tool for them.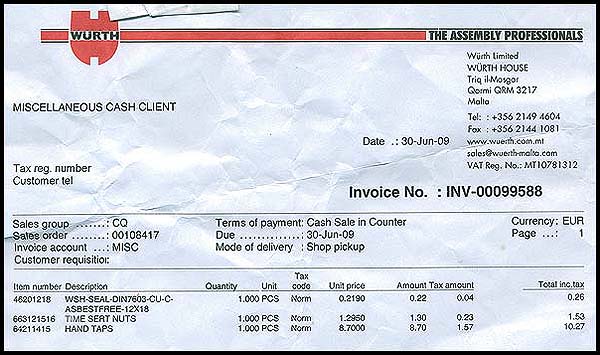 DRZ rapidly away whence I came.
Back in Floriana, get everything ready for amateur engineering down below in the studio.
Calm, calm, calm approach to tools and materials to be worked upon with respect and a meticulous attention to detail, as I cannot afford to get this repair wrong … cos if I do fuckitup, then the 900 and I'll not be boarding a ferry to anywhere at all for some considerable while.
So, ease my way into the Right-Frame-of-Mind-DiY-Zone with the aid of anicehotcuppatea.
Pedantic, methodical methodology with the drill stand is what's required …
But D'oh! … realise I ain't got a precisely-the-right-diameter-sized-HSS-drill to enlarge the hole to the dimension where the Time-sert tapper will go in easy … and by now, the Wurth stockist is closed for the rest of the day …
Double D'oh!
DRZ back to Mr.Dingli's San Gwann garage, to refit the oil-pump and the oil-pan.
Re-fit the oil-pump!
Easier said than done, that … Oh sure, the oil-pump came out easily enough … and previously, when I'd had the engine outta the frame and upside down in the Clonakilty front room, the oil-pump was actually a complete doddle to re-install. But now, with the engine the right way up in the frame, jacked up on a hydraulic lift in a San Gwann Garage … GRRR and Double GRRR ! What an I doing wrong? Why is it suddenly so awkward a task to achieve?
After hours of unsuccessfully dickingabout, trying to get the oil-pump back in place, I give up for the night and go home to Floriana and my comfortabelle, and far less awkward, Half-Italienne.
Thursday 2nd July.
DRZ rapidly through Maltese traffic once more to the Wurth stockist in Qormi.
Purchase a suitable diameter drill for making the right size hole for the thread-tapping tool to tap into easy for the tapping of the thread to take the insertion of the Time-serts (gibber).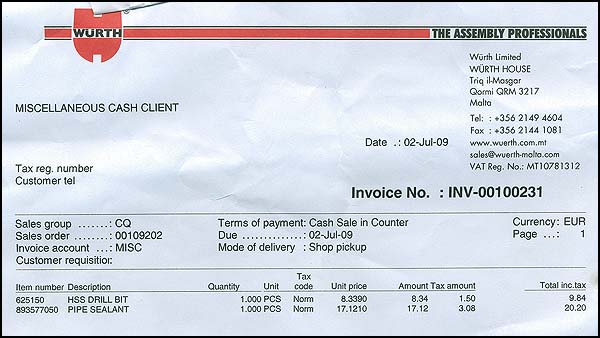 DRZ rapidly away whence I came again.
Back in Floriana, everything still expectantly ready for amateur engineering down in the studio.
Re-focus. calm, calm. Calm approach to tools and materials to be worked upon with respect and a meticulous attention to detail, as I cannot afford to get this repair wrong … cos if I do fuckitup, then the 900 and I will not be boarding a ferry to anywhere at all for some considerable while.
After a calming nicehotcuppatea (Barry's Gold Blend, present brought by Ronson from West Cork), time for pedantic, methodical methodology with the drill stand ... which is finally rewarded with a successful and precise repair to the oil-pan. Hurrrah and Thank You God(dess) of DiY !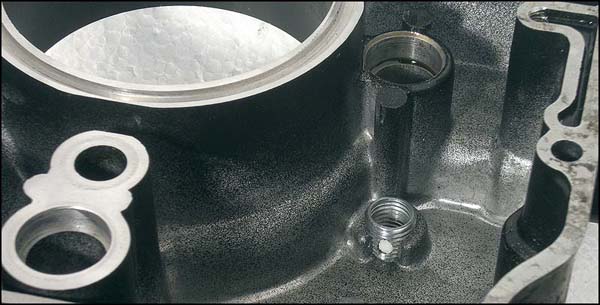 DRZ back to Mr.Dingli's San Gwann garage, to refit the oil-pump and the oil-pan.
Re-fit the oil-pump!
Bah … ha-bloody-ha-bloody-pain-in-the-bloody-arse-bloody-oil-pump!
No matter what I do, how I contort limbs, manipulate digits, I can't get the oil-pump to go back in as easily as it 'fell' out … grrrr !
Try to patiently work away on other tasks that need doing about the 900, work away, any chance of making the Friday morning ferry to Sicily slipping away.
Have another go at offering up the oil-pump to the engine … Nope. Gordon Bennett! It's almost as though the two of 'em had had some sort of tiff, and now will have absolutely nothing to do with each other … but that's silly.
Could it be that the introduction of The Scottish Part has changed the once easy going, compatible relationship betwixt engine lower-case and sump-oil-pump ? No ... that's even sillier ... surely?
Try a sideways-fitting-sneaking-up-on-it …
Nah.
Stop.
Sulk.
Lock up.
Home to bed and a sympathetic herself.
---
Friday 3rd July.
Refreshed and ready to go at it again, return to Mr.Dingli's San Gwann garage, wherein I drain the coolant out of the system so that I can ever so carefully take the cover off of the water pump without damaging the 'O' ring, then manipulate the pump blades to exactly the right angle for the inside the engine end to align precisely with the oil pump shaft slot – sacrifice a chicken to the deity of dickingabout – offer up the oil-pump into the bowels of the engine … Hurrrah! Fits in first go! Celebratory 55 year old demonstrates Success soft shoe shuffle about the tool strewn room.
Back to work. Ever so carefully replace water pump cover without damaging the 'O' ring. Pour the coolant back into the radiator and bleed the air outta the system, again.
Next, re-fit the sump/oil-pan and re-attach oil-cooler lines.
Start putting the sub-frames and bodywork back onto the 900 … now no chance of making the Saturday morning ferry to Sicily.
---
Saturday 4th July.
Gpz900 OC Forum
04-07-2009, 02:21
©-©
Answers
Planning? Yes. Actually doing it ... Possibly.
Most recent spray, Concept satin matt black. www.conceptchemicals.com.
Sam correctly identifies the mystery object as the non 'U' end of a 'U' lock.
Sump pan removed and suitable Timeserts now inserted in both drain holes. Motorcycle in process of being re-assembled.
Friday ferry missed, as will be Saturday's at 5am. Might try for the Sunday morning sailing ... that's if there is one?
-
Saturday midday, take the 900 for an extended test spin, everything seems to be in order and feels as it should.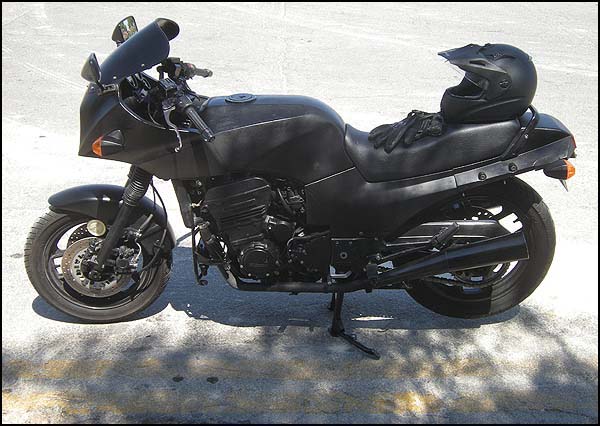 On the old, yet still grippy surface of the Pembroke parade ground, testing the efficacy of the new clutch parts, they certainly have restored the 900s' accelerative impetus to grin-inducing-hanging-on-fer-dear-life levels during shopping expeditions … and the brakes seem firm and well up to the task of rapid retardation.
Return to Mr.Dingli's San Gwann garage, tidy the place up and put neatly away what tools I've been using, leave a Thank-You-for-the-use-of-the-facilities present of a bottle of Gordons & a bottle of tonic, where Mr.D. is sure to find 'em.
Leaving the DRZ secure at Mr.D's, load up with all the bits and pieces that I've taken to the garage, then carefully ride the 900 back home to Floriana through the Saturday evening mayhem of Maltese traffic.
900, impeccable.
Half-Italienne greets me with a grin and makes me some food, whilst I get the packing going, ready for the Sunday morning ferry to Sicily.
So, almost midnight – seven'ish hours to ferry time …
---
Sunday 5th July.
00:00 hours … what to pack, what to pack? The debate continues to this day, but I had to decide there and then.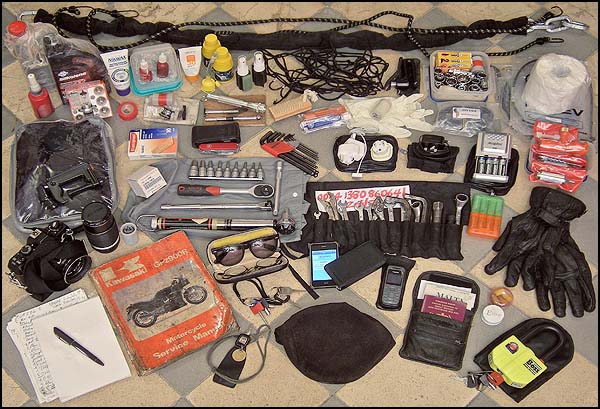 Some essential items
The thoroughly waterproofed magnetic, instant access Tank Bag got to contain my Rayban bi-focals and the clear, riding at night bi-focals, plus a pair of reading specs for the reading of the also-packed-in-the-Tank-Bag, Big Red '84 edition of the Gpz900r Service Manual and the third of the way read into copy of Dawkins' Climbing Mount Improbable; Black biro and a plain note pad for writing my notes upon; Mobile telephony devices; Me Black Cap; The wee digital Nikon with its spare batteries and extra memory card; A colourful variety of ear plugs; Squirty visor cleaning stuff with a rubber wiper thingie; Old style, precise tyre pressure gauge; Passport and 900's Maltese registration document and insurance; The small roll of tools and the Swiss Army knife; A 1 litre can of the expensive engine oil (very well wrapped in cling-film); One heavier pair of thoroughly waterproofed leather gloves; One Oxford Boss Alarm disc lock.
The thoroughly waterproofed Big Black Bag to be securely, time consumingly bungeed to the pillion grab rail got stuffed with - the bigger roll of tools; the boxed socket set; the spare light bulbs, fuses, cables, ignition coil (Remember Grosseto !); The second 1 litre can of the expensive engine oil (very well wrapped in cling-film); Battery re-charging devices for the mobile telephony devices and the digital camera batteries; The neatly packed Weiss two piece over-suit (that surely to God(ess)) I wouldn't need to use until well north of the Alps … ?); The heavy duty anti-theft chain; One pair of leather trousers and a leather jacket; One spare pair of black denim trousers; Four T-shirts; One black polo neck for the north; And a quantity of old expendable underpants and socks; Roll of Emergency Bog Paper; 500ml extra Scottoiler oil; Two tubes of Nikwax waterproofing goo and spray; Essential tube of Loctite Nutlock; Puncture repair kit – all wrapped up well within big strong bin bags.
Altogether, a lot of stuff, eh?
For the morning, laid out light jacket and trousers, pants and socks and steel toed DM's to travel in.
2am Sunday, sleep awhile before awakening for the 7:15 am Sunday morning ferry to Sicily.
4:30am Sunday. Alarm goes off, switch it off, get up and dress without disturbing herself too much.
One nicehotcuppatea, then outside to attach the stuff to the 900.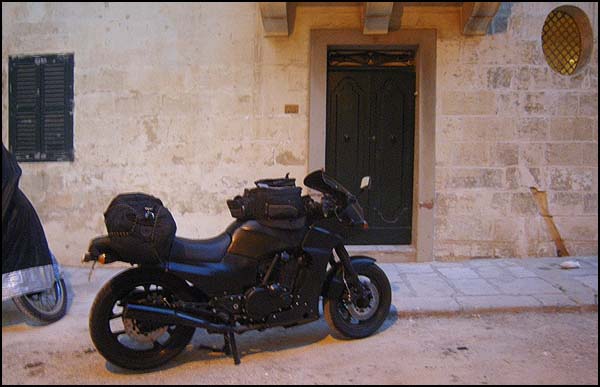 Front door closed as silently as I can.
Odometer reads 68294 miles.
Helmet on, gloves on, engine on, sound reverberating off the limestone, gently pull away to roll down Crucifix Hill past the last of the Sunday night revellers wandering out of The Tom Bar into the dawn light. Turn the 900 right along the waterfront to Pinto Wharf and the ferry terminal where the catamaran Maria D0lores is waiting to be loaded for the Sunday morning sailing to Sicily.
Into the terminal to buy an open return ticket. Place awash with Sicilians clamouring to get their tickets stamped so they can get aboard The Maria Dolores and go home.
Me turning up with bike documents, cash and a passport, but without a pre-booked ticket, throws the system out of kilter, told abruptly that I'll have to wait. As the vociferous queue of impatient Sicilians will have been dealt with before the bureaucracy can deal with me.
Stand well out of the way, watching ... My oh my ... I really must have been away from my Mezza Italiana / Nofs Maltia for far too long, stuck in gloomy garages and shady studios … my eyes now almost on stalks, as I watch the scantily clad Sicilian women, striking their studiously indifferent sulking pouting poses while their Sicilian men continue to argue the toss with the Maltese officials.
Too amusing, too hot to continue to watch - go out into the fresh morning air to check on the luggage laden 900.
It's still there alright … but what the … there's an'effin puddle of coolant beneath the front of the fairing !
Ooowh !
I can't sensibly set off abroad to traverse another hot Mediterranean island with the 900's cooling system pissing coolant from lord knows where … or, for that matter, not knowing why.
So, with the explanation of " I've changed my mind, " retrieve my documents from the by now bemused official behind the security glazing of the ticket counter.
Start the leaking 900 and gently ride back up Crucifix Hill into Floriana.
Park outside the house, unload, lock-up, open front door as silently as I can, dump all in hall, tip-toe back into bed.
Sleepy Half-Italienne wakes enough to quip "oooh, you were quick."
Bah!
"Now." She says, "Just relax, and take your time ..."
tee hee!
---
Later that Sunday - 900 back on the sturdy red lift in Mr.D's garage. Mid and lower fairings taken off to find where the coolant leak is from. Check hoses and tighten suspect jubilee clips. No obvious source of leaking. Lower the 900 to the floor, top up the radiator, and then off we go for another test run, with frequent stops to check for any further inexplicable leaks … but none to be seen as Sunday afternoon gets hotter and hotter.
Déjà vu return to Mr.Dingli's San Gwann garage, put the fairing back on, tidy the place up and put away neatly the few tools I've been using.
On the way home, stop off at the ferry terminal and purchase €204 open return ticket for the Monday morning sailing to Sicily.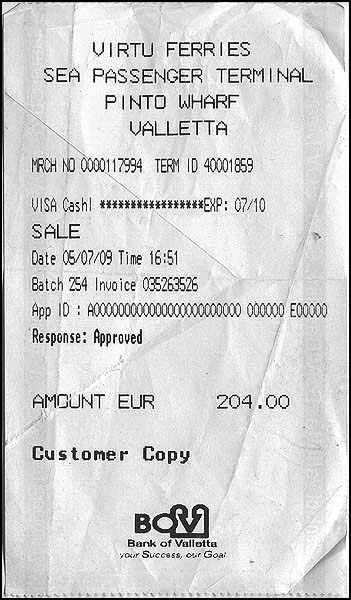 In Floriana, herself hears the distinctive sound of the 900 approaching, and so opens the door to welcome us home, but then, as we halt, looks quizzically at me … points to below the engine and asks
'Why is it leaking?'
900 on centre stand.
Examine.
Oil seeping out from the left-side of the oil-cooler oil line, above the banjo bolt where it screws into the bulging bit … $#¡π ! - $#¡π ! - $#¡π !
Return to Mr.Dingli's San Gwann garage, rip the lower fairing off and spend the rest of the evening carefully filling the crack in the aluminium of the oil cooler with some tacky black, 20 year old Loctite High Temperature Form-a-Gasket. Then carefully, carefully, ever so carefully re-tighten the oil line bolt, then leave the Loctite to set.
Patiently wait an intermidable while for the Loctite to do its thing.
Go for a gentle test spin … and, as far as I can determine, in the dark, no leaking … well, maybe just the merest hint of seeping … back to Mr.D's garage, replace the lower fairing and then tidy the garage up again.
Sedate ride home. Arrive in Floriana 11pm'ish, no alarming loss of lubricant or sign of drips or evidence of anything untoward with the Gpz. Park it, lock and alarm it, leave it.
Close the front door.
Early to bed with the alarm set for an attempt at the Monday morning, 7am sailing to Sicily.