Devizes - Malta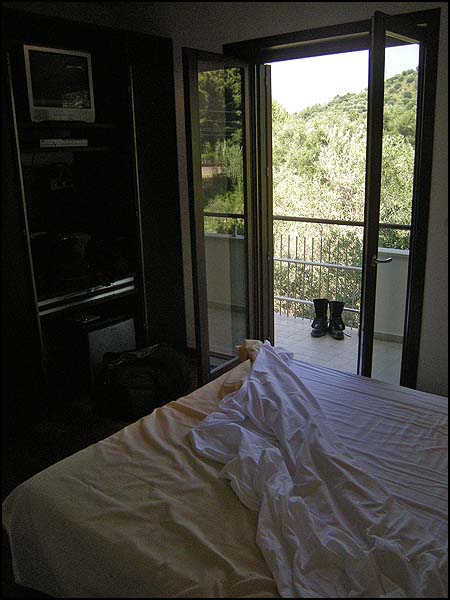 Never mind Ugh.
Mmmn … awaken warm and comfortable in a bed.
Occupant of room 205 farts appreciatively and peacefully drifts off to sleep, perchance to dream of vigorous motorcycling activities.
Ouch !
After a good nights kip, after thirty-six'ish hours of sometimes frenetic-gear-lever-shifting-travel, one sore, big red raw burst blister, on dutiful left-foot-big-toe, is making its presence felt after all of those hours of hairpin bending exiting accelerating up through the gears left-foot-big-toe-work.
Awake and survey the left-foot-big-toe damage. Pretty it ain't. But I think I'll survive the trauma.
The Voices sagely opine that left-foot-big-toe's blister was primarily caused by the left-foot-steel-toe-cap of the DM's boot preventing a unified, sandwiching compression interface of boot leather betwixt socked flesh of left-foot-big-toe and rubber of aluminum gear shift lever … or to put it another way, facilitated by the arch of steel toe-cap, too much space, enabling erratic toe rubbing friction to occur in the boot cavity around left-foot-big-toe during repetitious up-shifting.
I reckon that, for today's adventure, left-foot-big-toe deserves some extra protection and padding pampering; to whit, a sticky plaster and two pairs of comfortable, clean socks.
But first, the morning cleansing ritual.
But before that morning cleansing ritual, the ritual checking that the 900 is still there …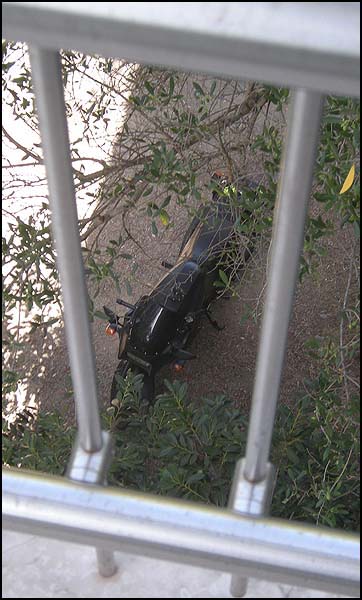 Always a blessed relief to see the 900 where I'd left it, still waiting patiently for me.
Morning cleansing, refreshing, dressing and thence to the dining area for four-star Italian hotel breakfast, that presents a wide selection to choose from … narrow my choice down to fresh OJ, a bowl of muesli, a warm croissant and a hot doppio espresso. Strong Stuff.
Back to room 205 just in time for the espresso laxative effect to ensure good use of the en-suite amenities, thereby guaranteeing a day free from care or worry of being caught short en plein air. Gentle Readers One and All, while I get on with the packing, I'm sure that'll you'll all agree that relaxed bowels are just as important in contributing to a satisfying ride, as is a fundamentally relaxed and open state of mind.

Stuff collected together. Packed. Black towel and shorts last in on top, just in case a swimming situation arises at some point. Luggage lugged from room 205 to Gpz900. Start the engine and let the oil circulate whilst I unlock the security devices, load The Big Black Bag and bungee it in place, attach the tank bag, pick my nose while waiting the motor warming.
Enough. Engine off. Let the lubricant settle. Scratch parts while waiting. Inspect the oil level … hmmmn, it's down some after all of that vigorous motorcycling about of yesterday. I shall add a tads more oil instantly. Do so fairly carefully; just the usual minor overspill to mop-up.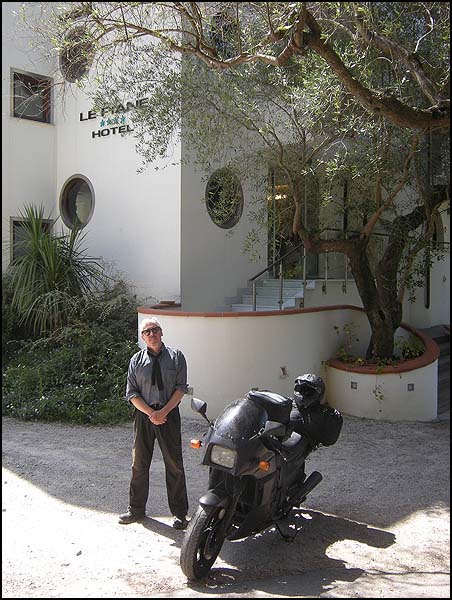 Odometer 73116. 4785 road miles from Floriana. Ready to go, but before I do, taking time to pause to pose before Le Piane Hotel for you.
Then it's engine on, ear-plugs in, helmet on, Raybans in place and ride off along familiar from last year seaside route towards Sapri and its beaches. The morning is hot and the beaches are tempting, sure enough.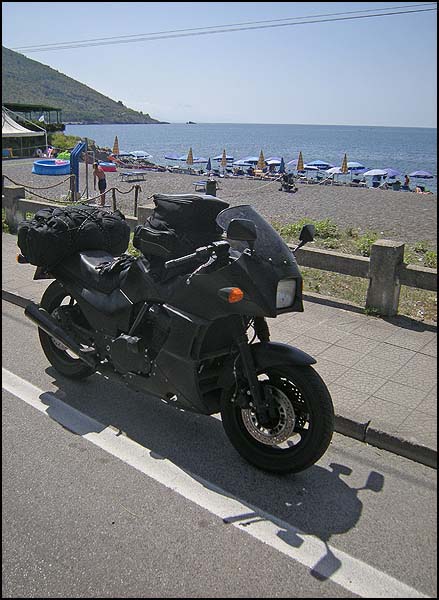 Did a U-turn to come back and check out this'un

… but as I've only just started off … and as the front end is feeling a bit funny again, there's need of finding a petrol station with an air-line for front tyre pressure checking before we're off, roaring away into the hills, playing wiggly roads to the south of Sapri.
Spot the air-line attached to an operational petrol station, ride in and stop, heave the 900 up onto the centre-stand.
Attempt in Italian and International Mime to politely ask the attendant if I can use the air-line?
Attendant soon gets the message, and smiling, replies, 'Si, si, certo!'
'Grazie signore.'
Whip out my reliable pressure gauge.
Rear Bridgestone pressure is good.
Front is slightly down.
… pssst … pssst.
Check again. That's it. Good.
Replace air-line neatly and wave goodbye to attendant.
'Molto Grazie signore.'
'Arrivederci !'
Ride slowly along Sapri seafront. It's getting hotter.
Concentrate on the traffic and try to ignore the scantily clads with their cleavages and bel culos wiggling about either side of the road. I'm getting somewhat hotter under the collar … phwaaa … Oh no. I'm becoming Benny Hill again.
Need a cold shower like distraction … spot a gelateria and soda fountain. Stop me and buy one superb dollop of creamy vanilla in a crunchy cone, purchase more water and Red Bull for later (bah - still no offer of sponsorship).

Chilled, head south outta Sapri and up the déjà vu familiar slope to the first bend of the coastal road roller-coaster section of the S18 … and cue the nimble-namble, nimble-namble, taking us back in time music …
... to June 2008 and ...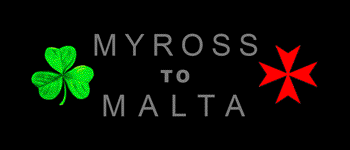 This after Sapri going south section of the SS18 is a fabulous route to ride a motorcycle. The vertiginous, half way up the coastal cliff hugging road provides the going-for-it-rider with plenty of opportunity for heavy braking (both planned & panic) into an interesting variety of rising or descending tight turns, to be followed by the right hand twisting bellowing, echoing, hang on tight acceleration up, or downhill, sounds bouncing off of the rock face on the other side of the road as ya hurtle along toward the next blind left … but just you be careful if you do, cos there are all sorts of travelling hazards to spoil your fun. Number One among'em being those 'freestyle' Italian drivers ...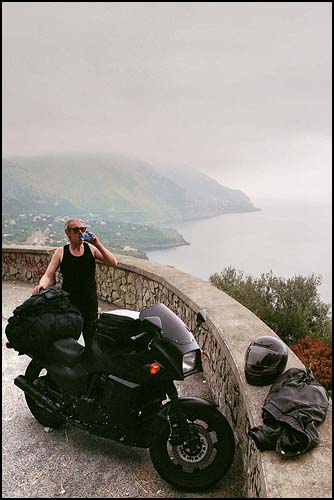 SS18 … © Myross to Malta. Friday 27/06/08.

… nimble-namble, nimble-namble music fades away … oooh, look. Here we are again, back in the ever so familiar present.
Hmmmn, I'd say time to stop for some water and ponder the passing of time, eternity … and can I discretely irrigate the foliage beyond the parapet before another car comes along?
Well, why not try it … listen carefully … anything coming?
No.
Ok, un-zip and give it a go … aaah!
This is the life, eh guys …
Approaching Brrrm-brm-brrrm.
D'oh! Man the pumps! Full speed ahead Mr.©. Shake off those drips, pop it back inside, zip up, act nonchalantly.
People carrier full of tourist family pulls into the lay-by. Teenage girls get out to check out the view … get a whiff and go 'eeeuuuw!'
Of course I'm now just as nonchalantly busy, attaching the camera to the thing that holds it steady while the self-timer counts down while I get my pose ready.
beep-beep-beep-simulated-shutter-Click …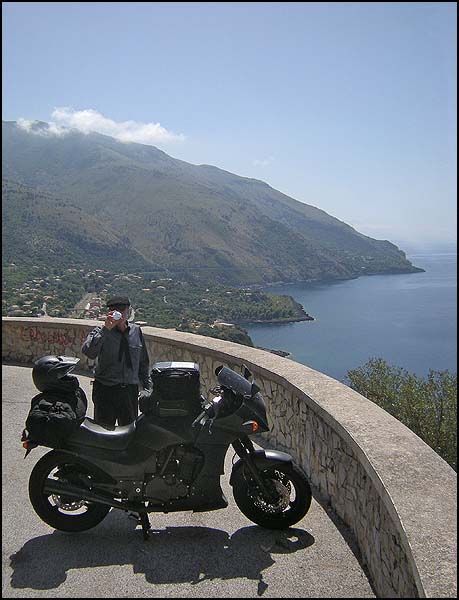 SS18 Déjà vu view. © Devizes to Malta. Tuesday 28/07/09.

People carrier full of tourist family doors slam, engine revs, pulls away and is gone. Peace descends again.
Appreciate where I am, despite the distinct whiff of a summers worth of other travellers road-side relievings since the last rains.

Carry on, carry on along this contorted coast, through picturesque towns and rugged scenery, the SS18 bucking and rearing entertainingly. But remember … on any Italian blind bend there are always … always there are, oncoming Italian vehicles in the middle of the road, straddling the white line and itching for any opportunity to biff an apex'ing motorcyclist over the edge and down, down, down into the deep blue Mediterranean sea.
Being Italy, there are of course Ragazzo da Corsa aplenty going either way. Which means there's the added thrill of keeping a wary eye on the rear to consider too … I mean, we all know it's no fun suddenly finding you have a Ferrari up-yer-arse!
However, thanks to the excellent rear vision afforded by the 900's mirrors, finding a fast car closing from behind, I chose to let it go past and then tagged on, sucked along in its wake, so to speak, it would be first fast enough through the corners to sweep any oncoming white liners well out of my way, promoting avoiding action away out to the verge by the time I passed unmolested through the bend.
There you have it. Finally … those cars that can keep the pace do have a practical purpose!
Following fun continues for some miles, until Ragazzo da Corsa arrive and pull in at their luncheon restaurant. I go sailing by, hungry and un-escorted again, my left-foot-big-toe giving me gyp from the flurry of gear-changing I've been doing.

Carry on, carry on along this contorted coast, through more left-foot-big-toe testing hairpin bendery, to the point where the topography carrying the SS18 begins to calm down and straighten and flatten out to cross the coastal plain, where my intended left turn point onto the S105 should be, for a wiggly route up into and through the hills. I'm still manic from being on it along the convoluted coast, so a degree of road sign confusion going through Belvedere Marittimo traffic has me turn left too soon, up more hairpin bends, where I soon come to a dead-end halt in a hamlet at the very top of a hill. From here it's either fly on, or go back down to the coast road …
Thistles.
Oh well. Stop and admire the view.
Jolly hot up here. Drink a can of the RB and a bottle of water.
Behind me the sea, coast disappearing north and south, inland the dark green trees, like a dark green carpet covering the slopes rising to the east.
Study the map. I should be able to see the S105 from this vantage point … but even though the air is crystal clear, there's no sign of a major'ish road wending it's way up into the hills from the landscape below.

Return to the coast road, refreshing sea breezes easing the glorious heat (©vg357), turn south and trundle along keeping an eye open for any sign of white-lining wombats … or signs pointing left to the S105.
Odometer 73170. 4839 miles from Floriana. 7.52L fuel, €10.00c.
At the petrol station, show the attendant my map, point to the S105, he gets the message, and points me in the right direction ... North … back where I've just come from!

Trundling back north along the SS18, trying to find the S105 turning … grrr … Italian road signs! … grrr … map-book not showing all of the side roads!
Calm, calm. Once-upon-a-time despatch-rider-brain-cells reach out and sense that the S105 must be very near.
Trundle, trundle through the heat.
Ah ha … what's this I see, an easy enough to miss hidden turning, in just about the right place, that surely can't be a wrong turning, must be the road to lead onwards and upwards to become the wiggly S105 !
Turning left off the coast road takes me through tight grippy-mountainous-twisty-corner-to-corner-apex-to-apex (©vg357) hairpin bends ascending a steep hillside overlooking the sea.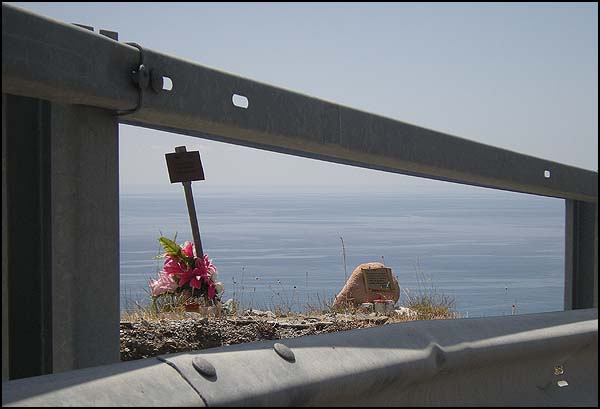 Dotted along the Armco of the bends, shrines to lost loved ones - poignant reminders of other wrong turns.
Carry on responsibly, avoiding oncoming white-lining wombats and the powerful temptation to over do it too.
Arrive in the town square of Bonifati, 39°35'6.31"N - 15°53'53.86"E. … erm, surroundings are intriguing, but, er, the way the locals are looking at me … it don't exactly look as though they are on a through route and accustomed to seeing motorcyclists searching for the S105 route onward to wiggly road fun and games.
Spot a sign pointing out of the square to Sangineto … right. I'll go there … now.
Nip across the square and dip down hill, more hairpin bends, across the valley, up the other side and into Sangineto. On up through the town … local heads turning, watching as I go by … stop at a vantage point, from which I can see through gaps in the vegetation what looks and sounds like a somewhat more travelled, must be the S105 major road, climbing through the trees up above. Surely there has to be a road linking where I am to where I wanna be.
Yup, sure enough, there's a narrow tarmac road heading off up through the trees towards what I'm certain must be the S105.
Follow, follow, follow the narrow tarmac trail for a half a mile or so of twists and turns through the trees, passing a mini landslide, skirting a big mud puddle and edging past some part of the narrow road slipping away subsidence.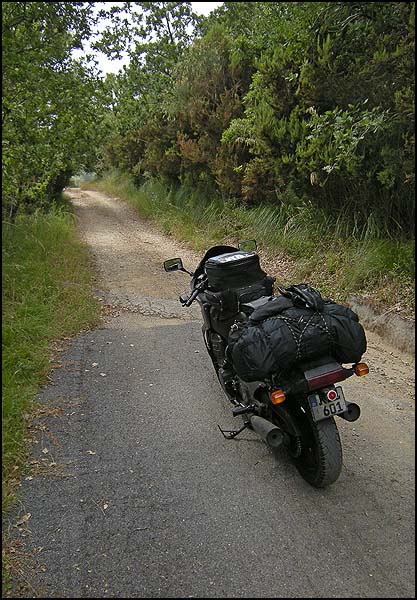 Sangineto. 39°36'27.47"N - 15°54'28.03"E.

For the 900, end of the tarmac and end of the back road exploring adventure, seeking the elusive S105 connection.
Dead end quiet here, 'cept for the ambient cacophony of cicadas.
Walked along the dirt track to check out what lay beyond the next bend … as far as the eye could see, bumpy, lumpy, rutted, potholed, washed away'd Translap territory.
St SPOD on his knobblies might. But I won't.
Back to the 900. Glug some water. Nibble of some of today's portable nosh.
Three-point turn for the 900 and back track all the way to the coast road again, to turn right and slowly, carefully head north along the SS18 once more until the next likely looking turning for a road to run up into the hills reveals itself on my right … Now, if I ignore this one and go any further north, I'll be back in Belvedere Marittimo, so, this turning has just gotta be the S105 … but the signpost says it's the SP263.
Hmmmn.
Begin to suspect my map-book is using a different road numbering system to the one that the Italian road sign suppliers do.
Bah!
Press the gamble button … ?
As the road starts to climb and do all of the welcome wiggly things a fun road should do, it becomes very apparent that the SP263 is the S105, or the S105 is the SP263. Whichever. The first eighteen miles of this road are absolutely fabulous fun, up and down through mountain woodlands, fairy-tale-stylee, hurtling through a undulating tree lined tube, dappled sunlight patterns dizzyingly jiggling about on the smooth, dry road. Glimpses through gaps in the forest of mountain-sides. Oooh, but here, when it's damp, you'd have to be especially careful in the wet. Particularly careful where you put your front wheel after days of mountain mists, coz there are lots of those deep in the forest shady spots where slippery moss and lichen on the tarmac of a bend accumulate, would instantly have the unsuspecting one orf … and we wouldn't want such an unfortunate occurrence to happen in the deep dark forest now, would we.
As I progress through this fun & games fairy-tale deep-dark-forest-land, I can't help but think 'Lucky Local Italians, getting to ride these roads whenever they please …' bet their left-foot-big-toe's don't give them gyp. Though to be fair to my left-foot-big-toe, it is soldiering on, uncomplainingly today, gear-changing up whenever to do so called upon.
Arrive at a crossroads that's open to the heavens. Stop for an appreciation, some refreshment …
… and under the watchful eye of 'yer man, some snaps.
©, posing with 900 and signage and scenery.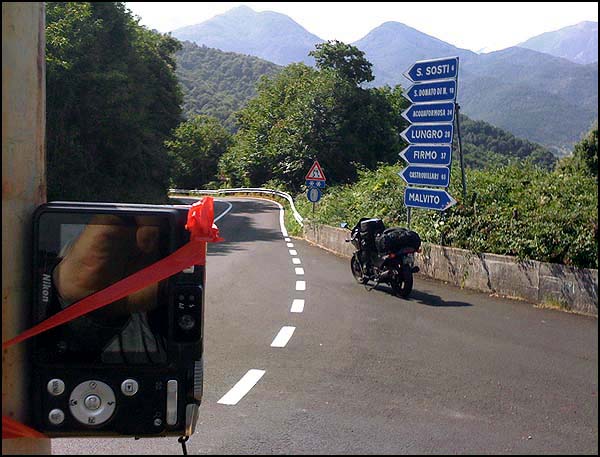 Behind the scenes, the pose set up. Mirror pole too large a diameter to get my camera clamp around. Fortunately, Red Tape to the rescue, enables the desired Scivolenta cross roads composition to be captured for you lot.
It occurs to me that Mex and Kwaksam would feel quite at home on these roads. It's all quite Mizen peninsula to Glengarriff and on through Kerry, but somewhat dryer and warmer, and without the bumps, or the loose gravel, or the random cow slicks, or the mobile sheep chicanes.
Carry on having more of the same fun along the SP263 / S105, heading towards Castrovillari. All in all, forty-five miles worth of exercising, keeping the concentration going fun and games corner-to-corner-apex-to-apex (©vg357) before I come to the point where I can see the Adriatic in the not too far off distance. Which must mean it's about time to turn south on the A3 and an easy autostrada ride to Cosenza.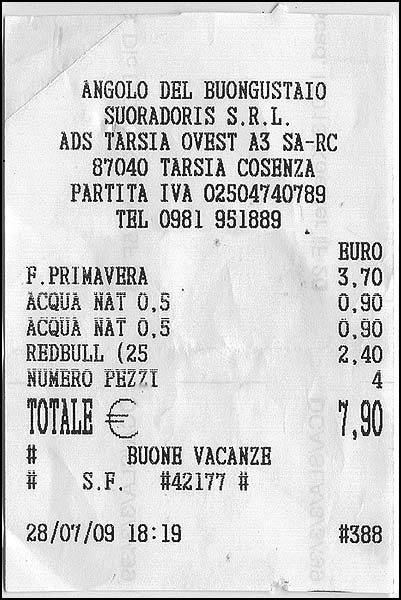 Teatime refreshments.
Odometer 73254. 4923 miles from Floriana. 12.48L fuel, €16.50c.
All in order, back to the continuing going south on the A3 autostrada … accelerating into the flow, realise I've forgotten to put the ear-plugs in … d'oh. I like the sound absorbent effect of the ear-plugs, dulling the tiresomely shrill frequencies of making progress, yet allowing the passing of that mechanical orchestration that tells of how the engine and other parts of the beloved are behaving ... aaah, a peaceful music to the inner ear … until those philistine hecklers, The Voices, chip in with their pessimistic You didn't check the oil level when you had the chance, did you? Oh no. Stuffed yourself silly with some half baked Italian cheesie, tomato'ie, ham and mushroomie yummy and never mind the wear and tear of the whizzing around and around and reciprocating thrashing up and down essentials within the bowels of the engine that you've been ignoring while you trundle on your merry random way through Italy …
Ok, ok, ok. Next lay-by, I'll stop and check the oil (and pop in the ear-plugs whilst The Voices are distracted checking the oil level).
Carry on, trundling on through the heat. Spot a lay-by sign and then Mirror-Signal-Manoeuvre, pull in slow down and stop. Engine off, get off. Heave the 900 up onto the centre stand. Let the oil level settle. And whilst waiting for gravity to do the hot oil draining down thing, whip gloves, specs and helmet off … poo! this lay-by is extensively littered and fly-tipped, and, what with no refreshing breeze to speak of, the stink of rotting, fermenting, sun baked putrescence is almost overwhelming.
Euuuwww – yuck. Gordon Bennett!
Push the 900 off of the centre stand and away from the stench, towards the exit slip road where at least there's a bit of a breeze from the vehicles passing by.
Heave the 900 up onto the centre stand.
Bend at the knees, squat and see what's what with the lubrication.
Look, see, told you. Now, if you'd have done this at the petrol station, hadn't had be reminded to check the oil … you wouldn't have to be standing here smelling this rotten roadside.
Aaawshaddup !
900 gets another bit of an oil top up.
Ear-plugs in, helmet on, sun-specs on, engine on, gloves on, sit on, get-it-on and I'm gone.
Off ramp to the right at the Cosenza exit and sign for the S19 towards Catanzaro, which, according to my interpretation of the Catanzaro dot on my Michelin map looks like a likely seaside bed for the night target.
Latch onto a couple of local Italian riders, follow them at a safe distance along the undulating road climbing uphill that suddenly brings us into a town square, one Italian riders peels off down a side-street, the other parks up and disappears into the throng of the evening promenade … and with no direction signs to be seen, I'm come to a standstill wondering where to go next ?
Where to go next ?
Oh … bugger the map.
Choose … oh … that road over there … the interesting looking one in the left hand corner of the square, which once entered into transforms itself, becoming a narrow old street, leading steeply down out of town into a valley, across a wee old bridge, then hard right and up and up and up a narrow strip of aged tarmac that brings me eventually, calmly, to a halt in a small square in a hamlet at the top of another hill, in another world, in another time. The square has old buildings on three sides, the fourth side bounded by a low retaining wall with an evening view beyond of ridges and valleys receding into the preparing for sunset west.
Engine off, gloves off, specs off, helmet off, specs back on, ear-plugs out, stay sitting astride the 900, looking around about at the peaceful place where I'm at.
Over on the other side of the square, sitting on stone seats set into the wall, next to some sort of communal source of water spring thing, a couple of Old Guys are eyeing me expressionlessly. Steadily returning their gaze, I slowly raise my arms, palms upwards, and give a theatrical shrug of international sign language for 'Where am I? … I have no idea.'
The Old Guys grin, get up and walk towards me.
"Buona Sera," I say, "Mi chiamo Graham. Sono inglese, sono in vacanza … and that's it, I have no more parlare Italiano …"
"Ah, molto buono!" says one of the Old Guys, "I once lived in England and can speak your language. So, you are English and you are lost. Where are you going?"
"Welll, … I'm not so much lost as, I don't know exactly where I am. I'm going to Sicily and then to Malta, but right now, I'm exploring Italy, I'm in no hurry, and here seems a nice place to be."
"But this is a dead end, the end of the road, my friend."
"You are lucky to be living in a place that people want to come to, instead of always rushing through.
"Si. Vero …"
"… di cosa sta parlando?" asks the second-Old-Guy of the English speaking first-Old-Guy.
Hubbub of Q&A explanation in rapid fire Italian.
Regale the Old Guys with the condensed version of my tale about the mad Malta – Devizes – Malta trip on my 25-year-old motorcycle.
English speaking first-Old-Guy seems impressed, he translates for the second-Old-Guy, who also seems impressed.
Whilst the pair of them converse in Italian, I open the tank bag to get at the water bottle, take a swig.
English speaking first-Old-Guy invites me to come and try their beautiful spring water from the spring in the wall of the square on the hill at the end of the road. "It is the best water in Italy … come, try, drink some."
And of course I do. How could I possibly refuse.
Their pride in the quality of their spring water is well justified. The clear spring water tastes remarkably pure, just as pure, just as refreshingly cool and real as one might imagine the best possible spring water could possibly be.
Sat-nav could not have guided me to this experience.
For an instant, an overwhelming temptation to stay there forever, come to a peaceful halt on the road that leads nowhere.
The Old Guys insist that I fill my water bottles with Their Spring Water … and of course I do, how could I possibly refuse.
Thank the Old Guys profusely.
Then they get back into arguing between themselves about the best directions to give for getting me back on track to somewhere.
Memorise their best advice.
Molto Grazie. Arrivederci.
Return whence I came, down the aged tarmac, left across the bridge, up the old street and into the square, take the north eastern exit and soon find myself bowling along, ascending more twisty bits as the sunset darkens the valleys below.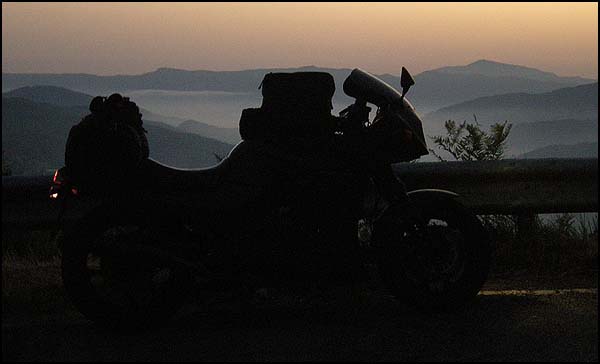 Natch, stop having ascending windy road fun to halt when I see The View somewhere peaceful along the road less travelled, to record an image of it for you lot. Camera work completed, swap Raybans for night-vision specs, carry on through the gloom, riding along the high beam through a fine, entertainingly twisty-turny I don't know what was either side of the road coz it was too dark and this is bloody good fun, ignore the phone, I'm concentrating on the beam of headlight that illuminates where I'm very quickly going between the roadside trees through the velvet black shadows.

Lights ahead. An Hotel in the middle of the very dark … nowhere. Warm glow, welcoming light spilling out on to the street from the hotel bar. This looks like a likely place to me. Steer the 900 towards the Hotel beacon, like a moth, drawn ever closer, closer, close enough to see happy people sitting comfortably inside in The Spacious Bar. Hmmmn, this looks like an even more attractively likely place to me.
Glide to an inquisitive halt outside the Hotel, engine off, gloves off, specs off, helmet off, specs back on, ear-plugs out, stay sitting astride the 900, looking around about at the peaceful place where I've arrived at … but hold'on a'mo. What's that not so peaceful whining, humming, deeply throbbing, pervasive invasive … rumbling?
Look properly about at the place where I'm at. Now, on the other side of the road, opposite the hotel, behind some trees, I can see there's a suspicious Aliens Have Landed glow arising from some source hidden within a depression … the very same place that my ears are indicating as the source of the disturbing low frequencies … could it be some sort of innocuous, albeit annoying generating power-plant factory thing … or is it really recently arrived Martian invaders, poised to infiltrate and subjugate Italy before attempting the Conquering of the World!
Oh Hollywood. Oh Magazine of Fantasy & Science Fiction when I should have been studying Shakespeare … oh no, no, no, no, spending the wee small hours attempting to sleep in close proximity to such a doubtful din and possible wee small hours disturbance by Death Ray, no way, it ain't my idea of a peaceful place to kip at all.
So, while I still can, engine on, ear-plugs in, specs off, helmet on, specs back on, gloves on and I'm gone, down the bright white piercing the night for more through the dark fun and games. Excellent Gpz900 mirrors give me glimpses of stars above the trees ... and thankfully no obvious sign of Alien pursuit … but as a precautionary measure, increase velocity along writhing roads through pitch black landscape down tree-lined-tunnel of head-light. Disorientating twist follows disorientating turn, left, right and left again … oooh look, there's a lake over to my right, now alongside it, narrow road hairpin bends follow the contours above a snaking shore line. Never mind the moon rising majestically from behind the trees … there could be a flying saucer following me. Concentration on the headlight illumination preceding me. Eyes fixed upon fast approaching vanishing point … tippy-toe dance step partner gear-lever, syncopating clutch hand squeezing releasing in quick succession, throttle wringing open and closing and open and closing, dip down through the apex - where's the road go? … there! … aim – fire! "yeeeha" It's Classic Ninja Road Race Playstation™® time again … oh, oh, oh how much fun can one have on a twenty-five-year-old, all black Gpz900, hurtling along smooth, empty back roads in southern Italy, through the pitch black early-evening-night-time during late July 2009?
Answer … Lots and lots and lots … all the way from wherever I was, past a dog waiting patiently at a crossroads, past a couple of roadside entrepreneur Arabs packing up their bizarre two tented bazaar, past it all, all the way through the dark towards the ribbon of coastal lights and Catanzaro.
Arrive at signposts that announce (in Italian, naturally) Welcome to Catanzaro. Alright, Benvenuto a Catanzaro. Ok. But where actually is this Catanzaro … ? I don't see very much of it ? Can't find any substantial part of it, Italian road signs sending me hither & thither about the edges. Eventually wash-up at Catanzaro Lido. The Catanzaro Seaside. The place is thick with nightlife. Slow, slow, piano, pianissimo traffic creeping along the seafront … Everybody but everybody out, promenading the hot night away and Golly are there some distracting hot young bods promenading about. Good Grief. I'm so rapidly becoming Benny Hill again, so, manual override on, must seriously concentrate on Promenading the 900 from one end of the seafront to the other, no sign of any Hotels with vacancies, Vacante. Ride into the town centre, where all Hotels encountered are all full for the night.
Bugger.
Starts to look like I'm Buggered for convenient accommodation in Catanzaro Lido.
Right, Gentle Reader. What'dya reckon. Time for the implementation of Plan B?
Ok.
Stop under a nice bright street lamp and squint at the map … where's the next likely coastal destination that'll be crammed to over capacity with hotels desperate for my late night custom … erm … That'll have to be somewhere to the south, er … it has to be Soverato.
Ok. Let's Go!
Bye bye Catanzaro.

Hah.
Getting away from Catanzaro Lido not at all straightforward, or even a straight southward endeavour.
Yeah, I admit it. Got confused by the bright lights and the distracting wiggly bits in the peripheral vision. Took a major wrong turn and found myself being carried along a dual-carriageway that instinct tells me ain't going the right way … oh you can titter, but I bet, if you're honest, you'll all admit to having at some time done the same … and isn't it always the way that once you realise the error … there's absolutely no legitimate highway code approved method of getting off the road that is carrying you away from where you really would rather be.
Life.
Sometimes it sucks.
Teeth gritted. Grimly carry on, searching for a hint of a junction or a sign of some such reversal of direction enabling highway planning.
Naturally, such searching necessitates a decrease in velocity, which is in some reverse inverse proportion to the decreasing gap between the 900's tail-light and the driver behind attempting to get close up my arse.
Esso sign up ahead.
Pull-in.
Come to a halt under the harsh fluorescent lights of the Esso station.
Thistles … automated petrol station!
No friendly, helpful Italian staff here to send me in the right direction.
Engine off. Heave 900 up onto centre-stand. Helmet off.
Send the Half-Italienne Herself a progress report text message.
Refresh self with some of the un-sponsored liquid.
Nibble on the remains of the mobile nosh.
Right.
Check out the map.
Where am I?
Can't see the north star through the glare of the harsh fluorescent lights of the Esso station.
The moon is over there, sinking towards the trees to my left, the west; therefore, my orientation suggests, I'm heading north.
D'oh! Looks likely there'll be no sleep 'till bedtime.
Nothing for it but to keep going north until the next junction, then head back south …
BEEP BEEP - Mobile demanding attention.
Half-Italienne reply …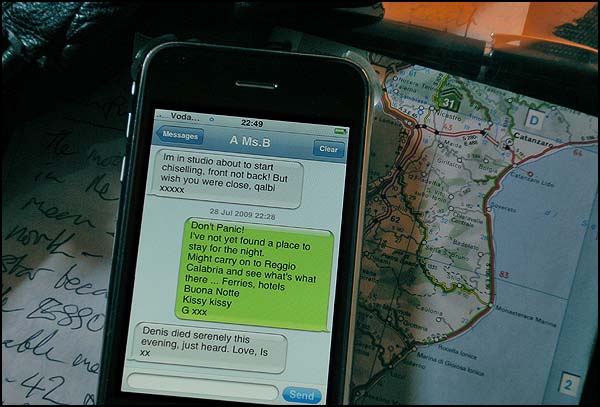 awwwBollox! Another good one gone.
Well … merciful release?
Dennis had been Fighting Cancer for some time.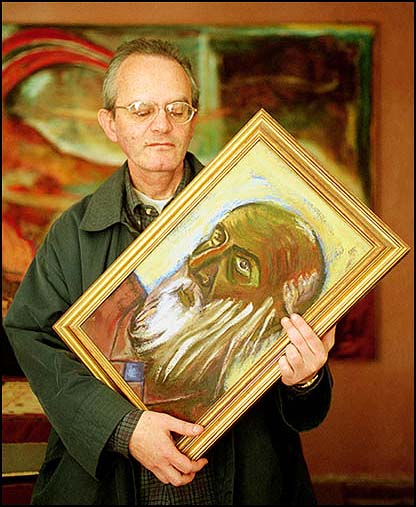 Dennis and one of the Half-Italienne's portraits.

The moon dips down behind the trees.
Suddenly, Malta – Devizes – Malta, seems a shallow enterprise.
Melancholia sets in, remembering those friends gone before I was ready to let them go.
Jayz … We're All Doomed.
One brief life … then you die.
Ohfecit.
Maybe Malta – Devizes – Malta ain't quite such a pointless exercise.
Leave, travel, appreciate, turn around, and return to what matters most.
Helmet on, specs in place, engine on, gloves on, get it on off north to find the next, fer-gawds-sake-there-must-be-one-soon, junction … after a few miles … there is. Execute an officially sanctioned 180°, and I'm making progress heading back towards Catanzaro Lido … past the bright lights of Esso. Bugger, should have topped up whilst I was there.

Carry on, carry on to other petrol station lights ahead. At this time of night, with no idea where next petrol might be found, fuel gauge shows this would probably be a sensible time to consider a topping-up stop and an oil-level check.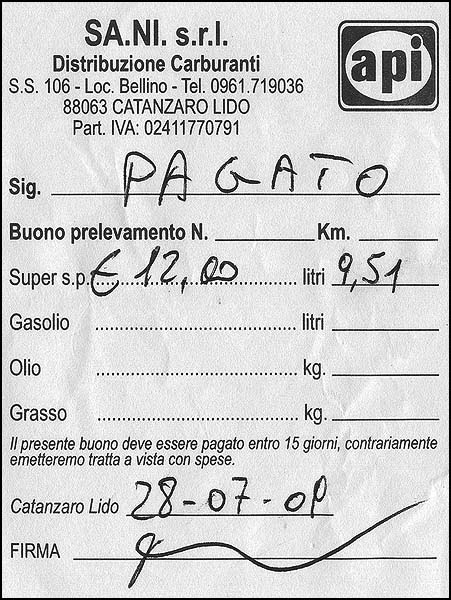 Odometer 73354. 5024 miles from Floriana. 9.51L fuel, €12.01c.
Oil level topped up a tads too.
Petrol station Ragazza do their best to point me in the right direction for Soverato.
Off into the night and find the right-turn to blast along the broad E90 coast road.
By this stage I've become a Manic, Tunnel Vision Motorcyclist, intent upon just the one thing … making progress to wherever the hell it is I'm going.
The Voices return as the opinionated passengers, opining that it's the result of overindulgence of the Red Bull that has 'yer man Manic … hurtling through the night with no real idea where he's going.
What keeps going is that eternal, contradicting conflicting between the never-ending joy of travelling and the fulfilment of arriving at that uniquely mobile destination - home.

Twenty-eight twisty miles later, 0100 hours'ish, cruise into Soverato, searching for a bed for what remains of the night.
One look at me emerging from the dark and the night managers of the swankiest seafront hotels will absolutely, definitely just say 'No.'
So, evading driving drunk dickheads, I circulate Soverato town centre looking for likely looking accommodation … Bingo! Near the train station, the 1930's style Two Star Hotel San Vincenzo … reception lights on.
Halt outside, dismount. Step closer to peer through the glass doors, behind the counter, lots of enticing, un-occupied room keys dangling from hooks.
Bzzz, bzzz, bzzz.
Bzzz, bzzz, bzzz.
Bless 'em, they answer.
The Owner, his wife and his son come to sort me out, not at all phased by a crazed Inglese on the street. Give me the key to a €35 room for the night and insist that I park the 900 in the locked hotel compound.
Molto Grazie.
By 2am, I'm in the hotel room, showering off the hot and sweatiness.
Refreshed, dig out Tullamore Dew from within the Big Black Bag. Pour the last, a full glass, to Toast the memory of the dear departed Dennis Vella … and then of the dear departed Jack Donohuge, then Winkie Stutchbury, then Dennis Catt; John Peel; Frank Zappa; Don Shearman; Alan Oliver, and my Mother and Father, and all of my ancestors, and all of those fabulous friends without whom …