Malta - Devizes

Get up, look out at the mountain view and savour the freshness of it wafting in from the open window.
See the 900, still secure, chained to a bench in the parking area down below.
Watch as a young woman walks up to the bench, plonks herself down upon it at the end furthest from the motorcycle. The impact of bottom upon bench shakes the chain secured to the 900 … Beep-Beep! goes the motion sensing alarm on the 900 … it pauses, then lets rip with a frenetic five seconds worth of ear-piercing BEEP-BEEP-BEEP-BEEP-BEEP-BEEP-BEEP-BEEP-BEEP-BEEP!
Peeved young woman looks towards the source of the sound, she performs one of those body language shoulder to hip to shoulder wiggles of 'Well, I didn't do anything …' The energetic motion of which is naturally sufficient to be transferred from her bel culo, to the bench, through the chain secured to the 900, which is hardly surprisingly, enough to set the 900's motion sensing alarm off again … Beep-Beep! … it pauses, then lets rip with another frenetic five seconds worth of ear-piercing BEEP-BEEP-BEEP-BEEP-BEEP-BEEP-BEEP-BEEP-BEEP-BEEP!
Annoyed young women glares maliciously at the 900 at the other end of the bench, then purposefully stamps her foot in totally justifiable exasperation at the unwarranted intrusion upon the peace and quiet one might reasonably expect to enjoy whilst sitting upon a bench, in the morning sun, in a quiet area of Aosta, in the alpine region of Northern Italy. Beep-Beep! goes the motion sensing alarm on the 900 … it pauses, then once more lets rip with a further frenetic five seconds worth of ear-piercing BEEP-BEEP-BEEP-BEEP-BEEP-BEEP-BEEP-BEEP-BEEP-BEEP!
Extremely aggravated, young woman vigorously jumps up from her sitting position, turns on her heel and haughtily stalks away, to an accompanying Beep-Beep! … BEEP-BEEP-BEEP-BEEP-BEEP-BEEP-BEEP-BEEP-BEEP-BEEP!
Ahem.
Get busy re-packing the far-too-much-stuff I've brought with me back into the bags. Phewww, it's hot'n sticky exertion. Time for S, S&S in the well-appointed sanitary facilities. Toweling personal parts dry when Half-Italienne calls on the No.1 mobile blower – and in one engaging, rambling, I-hardly-got-a-word-in-edgeways-conversation, exhausts No.1 mobile roaming credit!
Oh well.
Complete my drying and dressing.
Switch on the No.2 mobile telephony device and sms/text a polite message to Ms.B., requesting that she go-online and top-up the mobile No.1 for me.
In due course receive sms/text reply – "I'm busy Kitchen Floor Cleaning, and now you want me to be doing your computering – that's Multi-Tasking … far too intellectually demanding."
Women - eh, ya just gotta love'em.
Lug luggage from room 211, along the long corridor to reception.
Pay the €54 bill.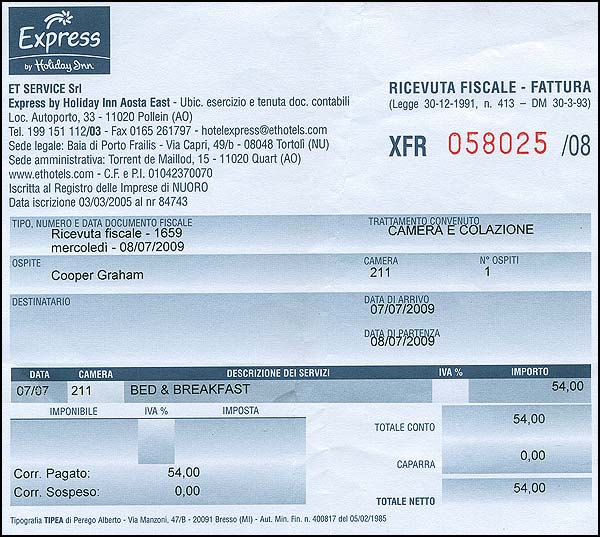 Lug luggage from reception to lift and thence down to ground level and out into the parking area where the 900 waits. Switch off alarm, unshackle motorcycle, then (to satisfy the voices) re-position it for easier access during replacement of balancer-bar-temporary-fix-of-an-on-the-short'ish-side-fairing-bolt, with another longer and more appropriate fairing bolt (can you guess which one?), that gets securely Loctite'd in place.
Job Done.
Then the voices sensibly chivvy me into spending another happy half-hour replacing a blown tail-light bulb (yeah, you guessed. The spare bulbs are all packed safely away deep within the Big Black Bag, necessitating a Big Black Bag partial unpacking. Tail-light bulb replaced. Big Black Bag re-packing).
Job Done …
Can I get on now ?
How about checking the oil level?
Ok.
Hmmmn. Could do with adding a tad's.
Go on then.
Ok.
Out of the tank bag comes the now a bit less than 1 litre can of the expensive engine oil (still almost very well wrapped in cling-film), not quite as laboriously as previously, peel away the cling-film from around the cap, then, just as ever so carefully pour a wee bit down the filler hole into the engine to bring the oil level back up to the top of the sight glass. Clean up slight overspill.
Right.
Now can I get on ?
Silence.
That'll be a Yes, then.
Bungee Big Black Bag in position, Tank-Bag hollow clonked into place.
Here I am. Just after midday, Holiday Inn, Aosta.
Sufficient snaps taken to meet the obsessive demands of you lot for me to document my doings.
Accoutrements all in order, 900 engine on and warming up nicely …
Odometer at 69458 miles. 1127 road miles from Floriana.
Right then, potter off into town to find benzina senza piombo – I do, and top up with 9.66L, €12.52's worth.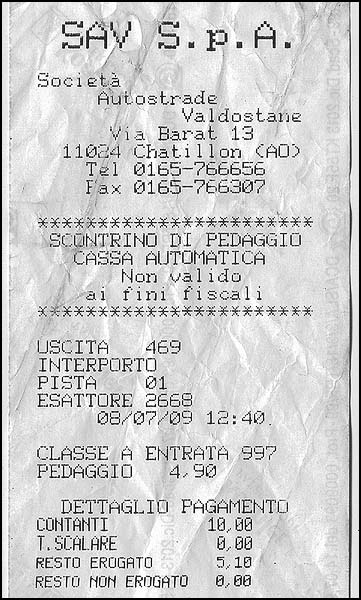 €4.60 toll-charge paid to get back onto the northbound A5, that takes me through ten 'minor' tunnels on the rising road that approaches the Mt.Blanc tunnel itself. Some of the open-to-the-skies-sections are provided with a pull-in-and-stop-and-stare-and-go-Oh-Wow!-at-the-mighty-distracting-grandeur-of-the-Alps place. Which of course, gentle reader, you know I cannot resist making use of.
Engine off, quietly cooling, contracting ticking, while I contemplate and appreciate that the €4.60 toll-fee is really money very, very well spent, especially so, as at this time of day, as I seem to have the road almost to myself and am able to savour without hindrance the Playstation®™ game-like quality of zipping in and out of curvaceously smooth tunnels between rocketing out into the open upon high legged bridges, catching breathtaking glimpses of mountain scenery from aboard my own personal missile … quite unlike the pilgrims of old, who would have spent days toiling through the Aosta valley, struggling up and over the high mountain passes long ago before tunnels were bored in them for me to effortlessly zoom through 'em.
Bravi ingegneri italiani !
Too easy to just carry on and hurtle through the mountain, so, just before arriving at the Mt.Blanc tunnel, turn off to the right to explore a minor road that brings me into some invitingly tight hair-pin bends that snaked through forest and lead me out into Val Ferret … oh Wow.
©'s Alpine Adventure Advice - Looking more at the astounding view to either side of where one is riding, instead of looking at the astoundingly wiggly road through it all that one is actually riding upon, will soon end in the inevitable tears of regret resulting from an unintentional off road excursion.
Preserve Nature – Stop and Stare.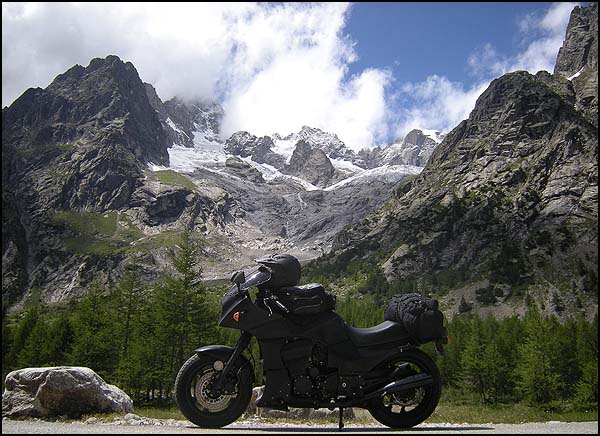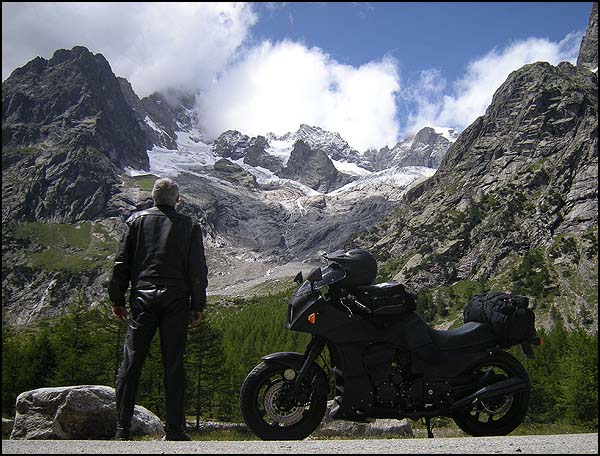 The Distracted.
Oh Wow.
A sunny day in July, silent valley amidst the Alps (once the 900 brought to a halt and engine switched off).
Gob-smacked-gaze upon the very, very, very bigness of it all extending precipitously right up to where the mountains meet the sky.
Oh Wow.
14.20. Mobile No.2 chimes in with an sms/text message delivery from Mr.Dingli.
'Are you in Frogland yet?'
14.30. 'I'm Transalps … Wow!' my reply.
14.35. 'Elucidate, Man! … explain, enlighten, explicate, put in plain words and divulge all !!' requests Mr.D.
What combination of words can convey the Oh Wow! of where I am - 'Incredible Panoramic View of Magnificent Mountains of Vast Proportions' … ?
14.40. 'Val Ferret. Mountain Valley … Wow … !' is all I can manage in reply.
14.45. Scenic Splendour overload sets in.
Time to avert the gaze from the vertical and try to get grips with the horizontal vanishing point, make the most of the twisty bits and hairpins back along the Vall Ferret towards the big tunnel, then carry on getting on with the going north and Destination Devizes.
Val Ferret - 'You Are Here' Map.
If You are passing by Here and have the time to spare, I really do recommend you drop in and give it a go (though sensibly, without having recourse to snow chains and insulating winter ware, I'd suggest summer months only).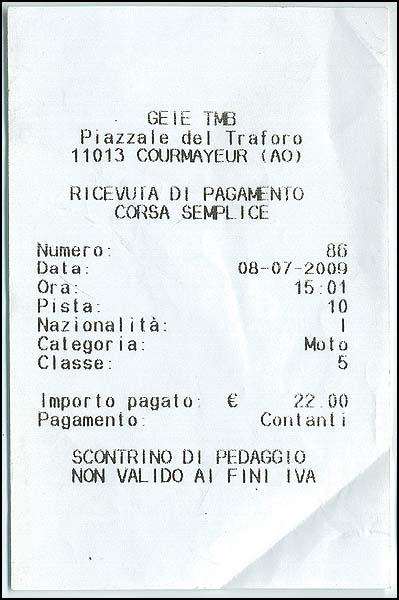 Tunnel Toll of €22 charged on entrance at the Italian end. (http://www.tunnelmb.net/v3.0/gb/camit.htm).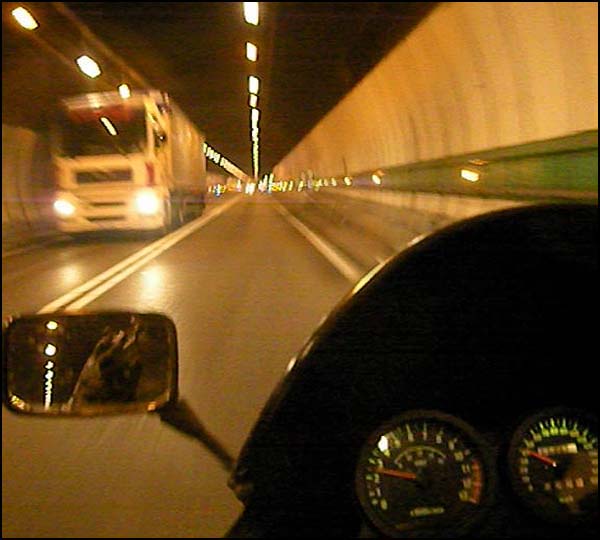 Into The Tunnel under The Mountain.
11,6 kilometres of trundling along at a strictly enforced 50 - 70kp/h, at a 150 metre minimum safe distance from the vehicle ahead (can you see one?). Policed by the ever watchful electronic velocity/time/distance measuring devices that instantly flashes warning signs at any transgression of the rules, whilst simultaneously supplying the cops at the end headed towards with video evidence of the Offence for imposition of on the spot fines … Except, of course, for the Italian up my arse.
Despite the roads to and from the tunnel being Jolly Good Fun, I hope never again to have need of making use of this Mt.Blanc tunnel. Twice in one lifetime (once to satisfy curiosity, once to satisfy expediency), is enough.
15.25'ish. Exit tunnel into France. Odometer at 69516 miles. 1185 miles from Floriana.
Just 58 miles done so far today.
Better get a move on.
But before I do –
A message from Ms.B.
"You're topped up with 50 euro's worth. I wasted 2 hours on-line. Sweetie ... You Will Pay !"
Women - eh, ya just gotta love'em.
Carry on, carry on down the valley to the E25 autoroute.
Pass through the toll-booth area near Geneva where last year I had recourse to pause during the southbound jaunt for the tightening of the wee upside down bolt that secures the thermostat body to the rear cooling manifold. No such trouble this time. The wee upside down bolt that secures the thermostat body to the rear cooling manifold having subsequently been well secured with lashings of Loctite™ (could that be a murmur of approval from the voices ?).
Carry on, effortlessly carrying on, heading for Dijon.
An affectionate squeeze with the knees for the 900.
Odometer 69580. 1249 miles from Floriana. 12.5L fuel. €17.00c.
Carry on, effortlessly carrying on until I feel it's time for another stretch of the legs, a refreshing drink of water and an energising can of Red Bull
Odometer 69717. 1386 miles from Floriana. 14L fuel. €19.50c.
Carry on, effortlessly carrying on, chasing sunset into the north west.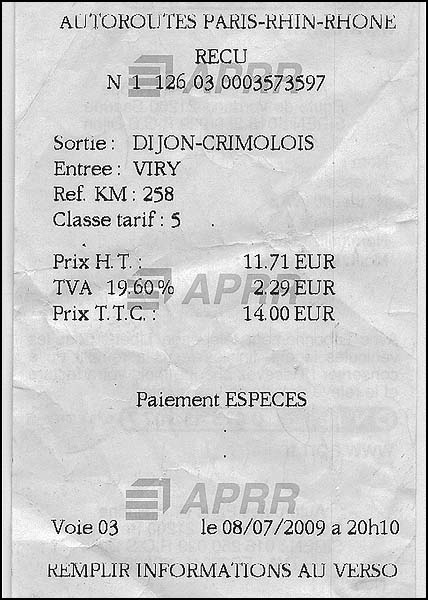 €14 Autoroute Toll to almost Dijon.
D'oh … Take a wrong turn and all of a sudden I'm off across country, trying to get onto the A5, that should take me to Troyes.
See up ahead what looks to be isolated showers blowing eastwards over the straight-as-an-arrow tarmac road where I wanna go. So, stop to put on over-suit. 900 and I stationary somewhere wide-open and exposed to the elements, well away from any sign of civilisation other than the flat road we're on that's crossing the seemingly endless French farmland to disappear into the distant blue twilight.
Follow a line of lights and find the A5 and carry on, carrying on effortlessly.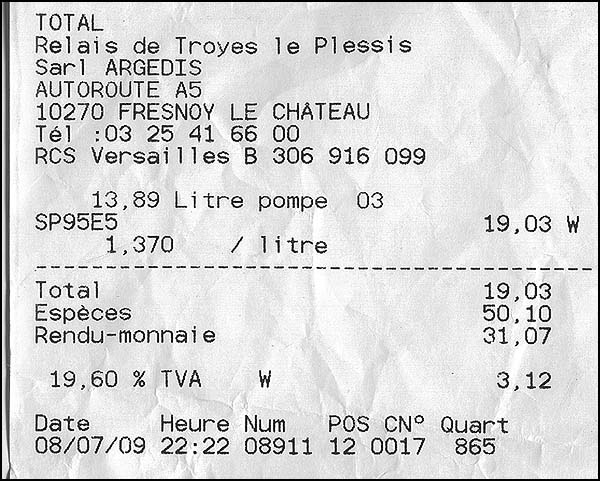 10.22pm. Odometer 69841. 1510 miles from Floriana. 13.89L fuel. €19.03c.
Shortly after, €6.40 toll-fee at Troyes on exit from autoroute.
Ride into the centre of Troyes at about 10.30pm, looking for signs of a Hotel for the night.
Stop outside a likely, modern'ish looking gaff. Check French phrase book …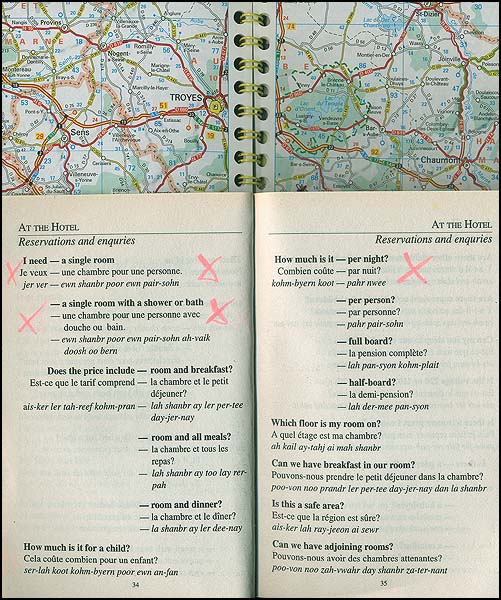 "Bonsoir Monsieur. Je veux une chambre pour une personne, combine coute par nuit?"
"Yes Monsieur, we'ave eeh rooom, for wanahundreadandtawenti Euro's …"
I can't help but laugh at the perception of the night manager, and his avaricious opportunism.
"Non, merci." Back to the 900, and off we go to look elsewhere, finding a couple of grander looking places, but both full up for the night.
The only available room to be found is at the Grand Hotel.
Grand Hotel … yeah, right.
Right opposite the train station, for €66.60c for the night.
No late snacks and not a hint of a bar … Bah.
900 gets chained to a sturdy No Parking sign sprouting from the kerb of the pavement right outside the entrance to the Hotel. (Odometer at 69855. 1524 miles from Floriana. Just 397 miles done since midday, averaging a heady 37.80mph'ish).
Fortunately, the Grand Hotel has a creaky, yet capable lift, which grumbles reproachfully while carrying myself and the seemingly increasingly heavy luggage all the way up to the fourth floor.
Chambre 422 is grand enough for its comfortable bed and being quiet and peacefully located at the rear of the hotel. Not at all long before I fall fast asleep.