Monday 13th July.
Penetrating my peaceful Devizes-Travel-Lodge-room-221-oasis-of-sleepiness, comes the chattering dawn chorus of bird song issuing forth from the trees; and the droning hoovering of laughing chamber-maids in the hall; and the metronomic rumble and swishing past of early on-the-way-to-work traffic.
Stumble out of bed and head in direction of bladder relieving facilities - ahhh.
Return to bed via a paranoid is-it-still-there-?-peep-from-the-open-window to see if the 900 is still down below ...
It is. Gawd it would be so awful if it weren't. Don't want to think any further about it.
Snooze for another Monday morning hour or so. Luxury.
Then awaken and arise to perform, just as yesterday, all of the necessary physical sanitation and mental recalibration tasks needed to enter the day and interact with the rest of humanity. Repetitive? Yes. But none-the-less necessary.
Bless Devizes Travel Lodge for providing me with the means to make tea.
After the welcome respite of the weekend, once again I have to turn my attention to The Packing of The Big Black Bag.
Bugger.
There's no way around it. I still have too much stuff to lug about. When bulgingly filled and full to straining and bursting point, The Big Black Bag must be almost as heavy as a petite pillion, like, say, The Half-Italienne, though nowhere near as much fun … the bag that is.
But I digress.
Must dispose of some of the older items of underwear and sockery. Though it's tough to just throw 'em away. Decide to use the used items as rags during the activity planned for the doing of at GpzZone Central today.
Re-pack and, yeah, well, maybe it's a wee bit lighter, tiny bit less bulkier without the rags in it … The Big Black Bag now only contains just The leather trousers and leather jacket; One spare pair of black denim trousers wrapped around Tullamore Dew; A now squashed-oval roll of Emergency Bog Paper; Tooth-brush, tooth-paste, nail scrubbing brush; Battery re-charging devices for the mobile telephony devices and the digital camera batteries; One black polo neck that I really needn't have brought north, but is now protectively rolled around my two precious jars of Frank Cooper's coarse cut vintage Oxford marmalade; Four New Tesco T-shirts; A quantity of New from Tesco underpants and socks; New from Tesco nifty light weave black jacket; Two tubes of Nikwax waterproofing goo and spray; 500ml extra Scottoiler oil; Essential tube of Loctite Nutlock; Puncture repair kit; The second 1 litre can of the expensive engine oil (still very well wrapped in cling-film); The heavy duty anti-theft chain; the spare light bulbs and the as yet unused (fingers well crossed) bigger roll of tools; the boxed socket set; spare fuses, cables, ignition coil (Never forget Grosseto !) – all wrapped up well within big strong bin bags.
Meanwhile, my supply of M&S pork pies and the very neatly packed Weiss two piece over-suit fit comfortably into the thoroughly waterproofed magnetic, instant access Tank Bag, along with my Rayban bi-focals and the clear, riding at night bi-focals, plus the pair of reading specs for the reading of the also-packed-in-the-Tank-Bag, Big Red '84 edition of the Gpz900r Service Manual and the now over half-way through it copy of Mr.Dawkins' Climbing Mount Improbable; Two new Tesco biro's and the plain note pad for writing my notes upon and the increasing wadge of already written notes; The Mobile telephony devices; Me Black Cap; The wee digital Nikon with its spare batteries and extra memory card; A colourful variety of used ear plugs; Diminished quantity of squirty visor cleaning stuff with its rubber wiper thingie; Old style, precise tyre pressure gauge; British passport and my Maltese i.d. card; The 900's Maltese registration document and insurance; The small roll of tools and the Swiss Army knife; The now less than 1 litre can of the expensive engine oil (still just about well wrapped in cling-film); The heavier pair of thoroughly waterproofed leather gloves and the Oxford 'Boss Alarm' disc lock – still leaving enough room for half litre bottles of water and cans of Red Bull to come.
Final check about the room and bathroom - nothing incriminating left behind.
Dress. Lug luggage Big Black Bag, Tank Bag, helmet and gloves down to the 900. Un-alarm-unlock-load-up-bungee-up-start-up-warm-up-get-on-and-finally-get-going … all of the way to Coate for the fitting of a replacement oil-cooler that Craig has set aside for my 900 (had been awaiting since '08 the delivery of fresh supplies of the GpzZone stylee version oil-cooler ... But no more to be had. So, OE the only option left for replacing my 900's original, now-fractured-about-the-banjo-bolt-joint, oil-cooler).
Arrive at the entrance to White Wheel Towers just in time to be invited in and partake of morning coffee on the terrace with 'The Master.'
This sunny Wiltshire morning, our favourite entrepreneur is in a particularly jovial frame of mind after the fun & games of the 25th Birthday Bash weekend – he's happy having raised funds for the Wiltshire air-ambulance. He's delighted by the spares sales bonus occasioned by us lot riding our fleet of aging Ninja's over hill and dale almost to the very doorstep of his 'shop.' He's also quite content with the quantity of on-line orders placed over the weekend that he has awoken to this profitable Monday morning ... so much so, his beneficence offers me another one of his Gurkha's HMR cigars, but I must decline, as the first has me wheezing somewhat and, infused as they are with a generous portion of Louis XIII Cognac, feeling slightly tipsy already ... and today, I do have serious mechanical doings that require of me a clear head to be done.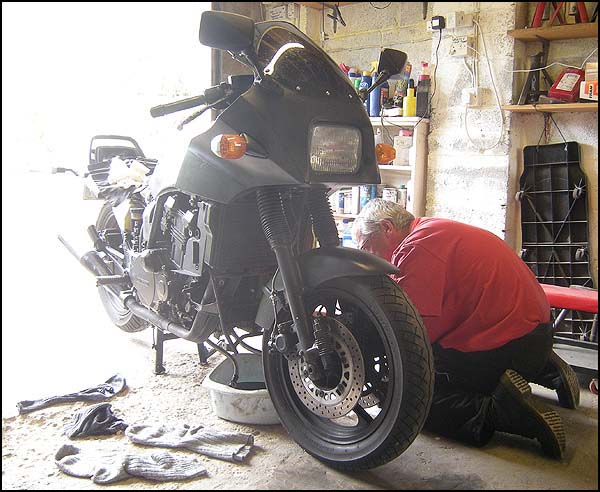 See. Serious mechanical doings being done … or is this the one of that cigar making me puke?
Note; old socks used as knee cushions. Old under garments (as ever) soaking up spillages.
2123-mile-old-expensive-engine-oil carefully drained and strained through other old socks, to then be set aside to settle in a sealed container.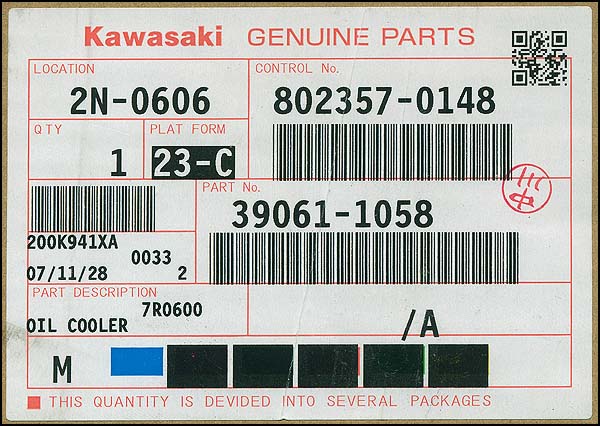 New oil-cooler fitted, oil-lines ever so carefully tightened up.
2123-mile-old-expensive-engine-oil strained again on its way back into the engine.
Start'er up … no leaks … Hurrrah!
Mr.D comes in to see what all the commotion is about. Thoroughly inspects the works, Quality Control approves the new oil-cooler fitting. Then looks stern, tells me that my idle is a little rough …
I tell him there's no need to get personal, remind him I have been alone on the road for over a week.
"You Fool. I mean the tick-over. I shall balance your carbs. Whip the tank off would you my good man."
"Yes Boss."
Within fifteen minutes I've received knowledge of the black art of balancing carbs to perfection, now my idle is smooth enough to satisfy even the exacting Mr.D.
"Right. Pop the tank back on - and while you're doing that, I'll see what's wrong with your brake lights."
"Yes Boss."
"Jolly Good."
Mr.D. Chortling with glee, hand up my tail-piece, being above and beyond the call of duty generously helpful sorting out the electrical.
Spares bill rises by the cost of a tail light bulb and a front brake light switch; four of those smoked indicator lenses; four front caliper mounting bolts; Deluxe fuel tap repair kit; a couple of high security tubeless tyre valves; three Bolt, C'sunk (Mirrors) M6x30 221C0630 … plus a four dial carburetor balancer, that Craig sensibly suggests will just make me whinge even more in my report about carting about too much luggage, unless … he posts it to Floriana.
"Yes Boss."
"Jolly Good."
900 now ready to go.
Now surely, Craig must be one of the most thoroughly decent and absolutely spot on blokes, man of integrity, friend and trusted confidant and supplier of parts a fella could hope to have.
Manly farewell and Sincere Thanks to Craig (and of course to the charming Mrs.D. – behind every great man, etc. etc.). Then mount up and move off disappearing into the sunset (well, it would have been in the direction of the sunset, if I'd left about five hours later).
135 miles ridden over the 25th Birthday Bash weekend.
Odometer at 70414 miles on leaving Devizes after a 9.53L fuel top-up - £10.00p.
Head south, having about as much sensible fun as one can on a Monday, riding along the dry variety provided by the A360; A338 and A337 taking me towards Christchurch.
66 enjoyable miles later arrive at the home of Ol.

Now surely, Ol must be one of the most thoroughly decent and absolutely spot on blokes, man of integrity, friend and trusted confidant and former brother-in-law a fella could hope to have (Hmmmn. Two in one day. Lucky me!).
But nonetheless, just as soppy and daft as any of the rest of us (Hmmmn, another similarity with Mr.WW).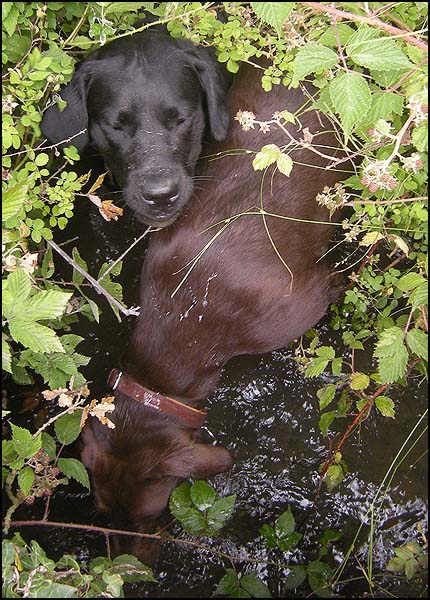 To demonstrate. See these, his Labrador puppies … puppies indeed. Great Galloping Gundogs!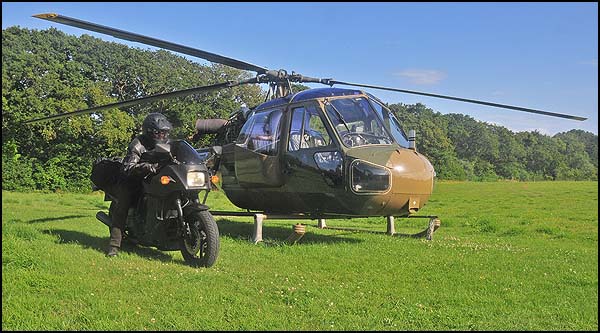 … then there's this Scout Helicopter he looks after, parked as large as life on his front lawn.
Ol is married to Susie. Susie is a Saint. C'mon. Gundogs, helicopters, former brothers-in-law turning up at short notice on 25 year old motorcycles … she takes it all in her stride.
Ol and Susie's kids are all grown up. Of their set, only Sharka and Lucy are about the home tonight, both cool young adults who quite touchingly instantly recognize and remember the 900 from back when they were young.
Lucy's beau arrives with a bottle of single malt and generously commences to share it. In so doing earning great credibility points as far as I'm concerned. On the way towards Ol's, I'd stopped for some sharing libations as well (©'s Travel Tip; it always pays to leave a bottle or two's worth of space available in the tank bag for the accommodation of a sharing libation, or two), so, with some variety of tipple and interesting conversation, the evening flew by most relaxingly and pleasantly convivially in the company of old friends.
No worries about Beloved theft paranoia either, all switched off, as 900 was already safe and secure, well hidden away from avaricious view between two stout Defenders.
Monday 13th of July day eventually switched off too, about midnight, as my head subsided into soft pillow upon comfortable bed.