Devizes - Malta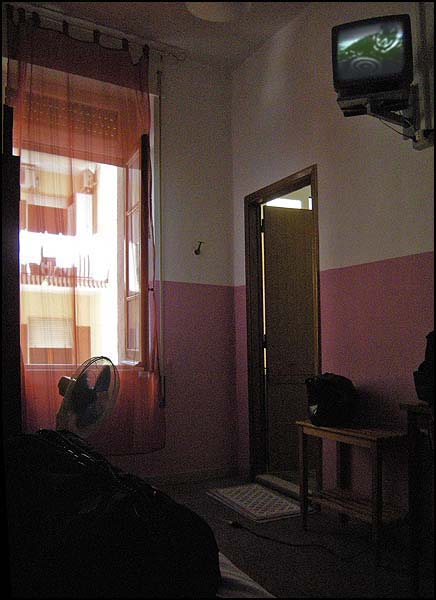 Sveglio a camera sei, Hotel San Vincenzo, Soverato, Italy.
Room six of the first hotel to be built in Soverato, in 1933, same family owned and operated since then.
Molto effin caldo! Translates as – 'Phewww, but it's Jolly hot.'
First thing to do today is have a refreshing shower as, despite sleeping the night in as unencumbered manner as you don't need described any further, awoke hot and sweaty.
Showered and refreshed, set to to pack the stuff, resulting in Molto effin caldo e sudato!
Shower again.

Lug luggage away from the room where I spent the night, lugging luggage down the dark corridor getting hotter, and hotter down the stairs to the sweltering reception, getting even hotter under the collar down there while desperately trying to remember correct Italian phrase book phrases to thank The Hotel Owner, His Wife and Son for letting me in late last night/early this morning, giving me a bed for the remainder of the night. Message understood. Lots of Arrivederci's and Buon Viaggio's!
Lug luggage out to the 900, start loading.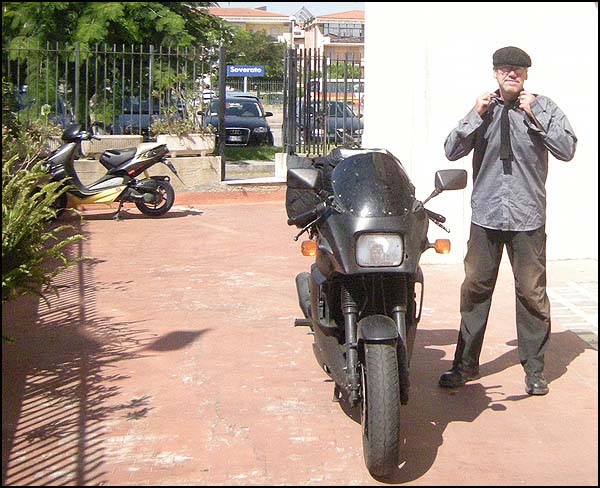 10am and Gawd it really is Jolly Hot out here in the compound where the 900 spent the night.
Too hot to stand around in the sun for too long posing for pics.
Helmet, gloves and Raybans on.
Odometer 73382. 5,051 road miles from Floriana.
Engine on and running smoothly. Ready - steady - Go - South from Soverato, out on the E90, running along parallel to the coast on my left next to the deep blue sea beneath the deep blue sky.
Mmmmn, the invitingly cool blue, Deep Blue Sea. I keep an eye scanning ahead for a suitable spot to stop and go for a swim … but every inch of coast seems to be fenced off, defended entrepreneurial territory, occupied by varieties of exclusive beach concession. The day is too hot to stop to potter about off-roading to find a free swimming spot. Cooler to carry on, concentrate 100% on riding safely through the freestyle driving natives.
Keep the 900 going apace. Steady airflow through the radiator keeping the temperature gauge calm, so, no cause for manual overide alarm.
The 900 laps up the long, smooth coast road that's interspersed with gentle curves and the usual random surprises seen, passed, receding in the mirrors. I'm comfortably tucked in tight behind the dark screen, eyes peeping over the top of the black blade, intent upon the road rushing towards us. Even at helmeted-head-wobbling-turbulence-inducing velocity, vision is steady, helmet chin bar firmly supported by stuffed full tank-bag. Gloved fingers lightly touching the levers, hands light on the bars, elbows resting on knees that are gripping the tank. DM'd feet where they should be, ready to tap-dance down a gear, to accompany a firm twist of the wrist as we surge past another tachometer limited truck heading a queue of impatient car drivers.
Inland, hinterland hillsides pass by, tinder dry brown beneath the remorseless sun, the 900 & I continue our cruise through the heat haze towards The Toe of Italy.
Above sparkling water, an elevated right turn around the corner of the coast at Capo Spartivento reveals the distant summit of Mt Etna, as seen from across almost sixty miles of sea, rising clear above hazy, supine Sicily. Too hot to stop and stand and stare and go Oh Wow … keep on keeping on, steady airflow through the radiator keeping the temperature gauge steady.
Smooth coast road becomes a sparsely vehicled dual carriageway. Velocity increases accordingly. Whizzing along rather well, excellent OE Gpz900r A1 mirrors show Forgone Bianco following me. Hmmmn. White van man driving too recklessly to be uno dei Ragazzi in Azzurro … let him race on madly by.
Good job I do too, as 900 stutters and the engine does that dying there's no fuel getting into me carbs thing. Vapour Lock. Pull at the tank bag, but its sticky hot stuck to the spot.
Clutch in and down through the gears into neutral to coast to a halt on the hard shoulder by the barrier that separates me from the two storey drop to another tinder dry valley full of cicadas ratcheting away down below.
Molto Caldo.
Heave 900 up onto centre-stand. Instant hot and sweaty with this exertion. Prise hot'n'sticky tank bag plastic clear of the filler cap. Open filler cap to let air in. Yup … there's fuel in there alrighty. Close filler cap. Turn fuel tap to 'PRIME.' Wait … look around … north, sun baked landscape below me and away through the heat haze up into the hills. South, other side of the road, a footie pitch's worth of sun-baked space between the barrier and a block of flats. From this distance I can see the balconies all in comfortable shade, and what looks like a swarthy type in shorts coolly sitting, watching my performance. Then briefly, what appears to be a naked woman steps from the shadows of the apartment onto the balcony, hands swarthy type something then skips back inside … This Heat, it plays tricks … was that really seen, or imagined, a mirage …?
Mad Dogs and Englishmen. I should get going, find a shady spot to take a break, get out of the sun.
Turn fuel tap back to 'RUN.'
Ignition on, engine fires first time. Get on, get comfortable, carry on.

Circumnavigating The Toe, now on course north, Sicily clearly visible to the west across the Straits of Messina.
Nine or ten miles or so to go before Reggio Calabria, increasing lunchtime traffic slowing the pace. Visor pushed up a bit further for some extra breezy ventilation … instead, disconcertingly hot air is blowing in over my face as the road emerges from a high-sided cutting, crossing an embankment above another tinder dry valley that channels the heavy hot air to the sea.
It's cooler with the visor down! But still Molto Caldo!
Petrol station comes into view … this must be the sensible, shady place to stop.
1.15pm. Odometer 73479. 5,148 road miles from Floriana. 14.63L, €19.00c. And a tads of an oil top-up.
1.30pm. Stuffing myself with pizza, followed by espresso doppio and two cold energy drinks.
Right. Progress report texted to Ms.B.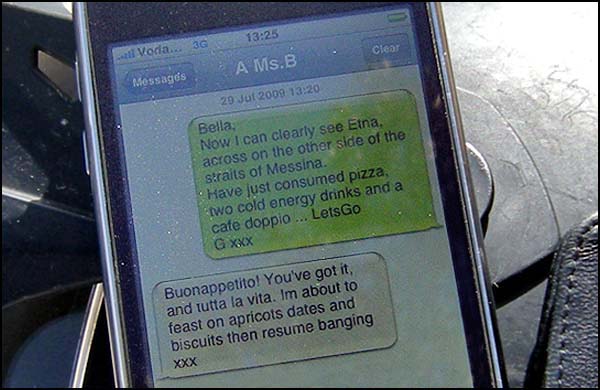 Now I'm rarin' to go again.
E90 takes me past Reggio Calabria, through to Villa San Giovanni and the ferry to Sicily.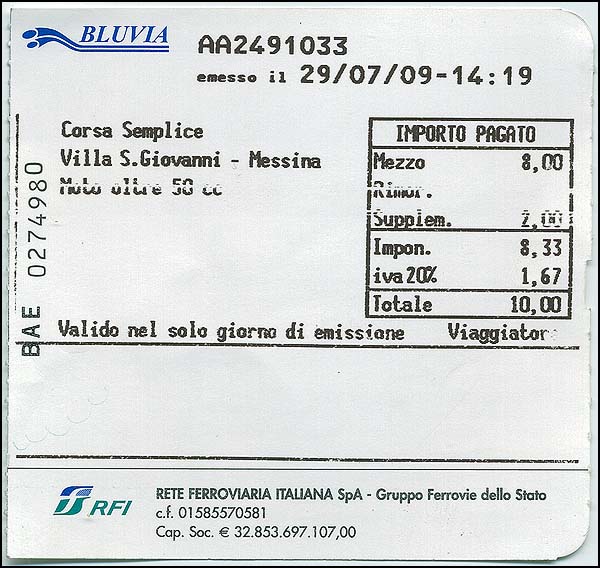 €10, one-way ticket to Messina.
Park 900 in the shade while awaiting the call to board the next ferry.
Odometer 73499. 5,015 miles travelled since I disembarked from the ferry here on the 6th of July. Now 5,168 road miles from Floriana.
Welcome opportunity for purchasing thirst quenching cold drinks while awaiting the 2.30pm sailing.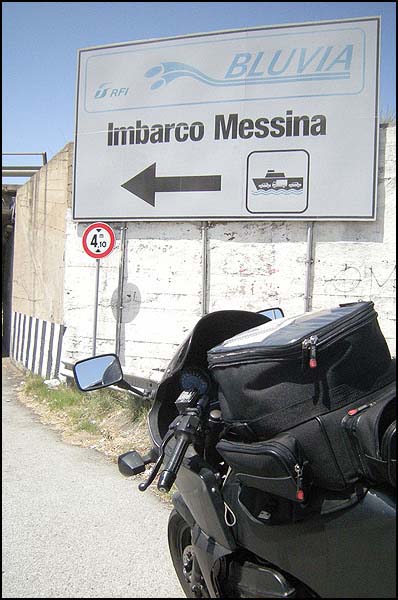 Called to embark, follow the signs, thread through cars and trucks to find a space at the head of the queue.
All efficiently aboard and soon set sail across placid waters, following in the wake of the previous ferry, one of eight or so that are today operating a continuous shuttle service between mainland Italy and big island Sicily.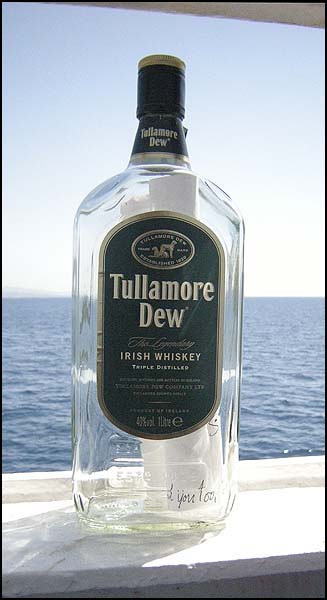 Message to Absent Friends in Tullamore Dew bottle, very soon to be set sailing, bobbing about in the Straits of Messina, about half-way between Italy and Sicily.
Pause to remember those gone before … then over the side and they're gone with Tullamore Dew, tumbling end over end into the sea with a small splosh that's soon lost astern, the Ferry structure juddering, shuddering rhythmically as diesel engines pound away down below, pushing us through the water towards Messina.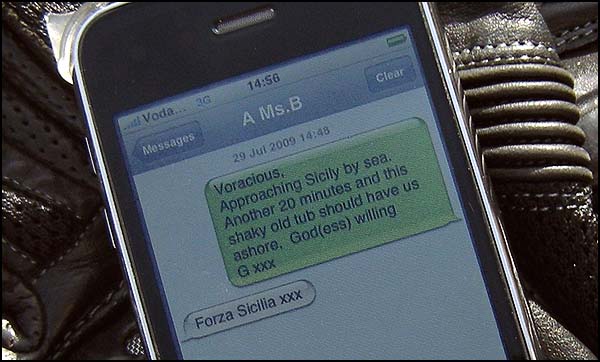 Now so, will this old tub go the distance … or finally shake itself to pieces a few hundred feet from shore … ?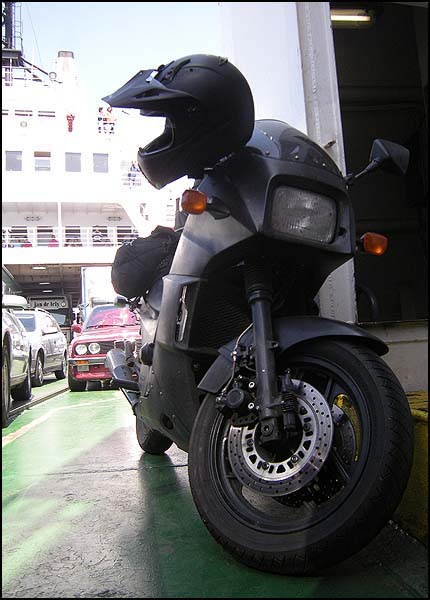 900 in the shade, on the ferry across the Straits of Messina to Sicily.
Phewww. Hot afternoon, sun sizzling anything out in the open. Cool sea breezes most welcome.
Disembark and race away to get out of the congested metropolitan oven that is Messina.
Riding in Sicily, immediately apparent that it is much faster and furious than anywhere else I have been.
In my experience, contemptible Sicilians motorists will nonchalantly put your life at risk, kill ya with their cars.
In my experience, should one stop a Sicilian pedestrian and ask for directions … all is helpful, welcoming, good-natured sweetness.
Masses of two wheelers to be seen, ranging from High-end poseurs on the expensive stuff, through the range of usual suspects aboard UJM's, to loads of scooters piloted by Teenagers … encouraging to see many of 'em Young women! Though as dispiriting as ever to be out maneuvered in a tight spot by a helmet-less Girlie sliding by on a scooter.
Flee from the heated mayhem of Messina and blows to my fragile ego, up and away onto the autostrada behind town that leads along the north coast towards Palermo in the west. Increased velocity brings relief from This Heat, especially so when zipping through those cool tunnels the Sicilians have bored through the steep-sided mini-mountains of their convoluted coastline.
Leave the A20 autostrada, to go through Villafranca Tirrena for the coast road SS113.
In town, suddenly I'm overwhelmed by a swarm of helmet-less scooterists and scooterettes buzzing about me, diving past to the left and right with no sign of adherence to any Sicilian highway code other than "there's the road, we're on it."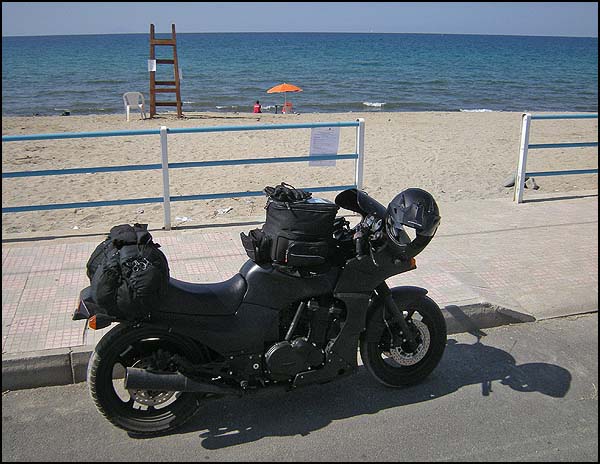 See the sea, temptingly cool blue, not so far off, conveniently close to the road, with oodles of parking space to hand, find a short stretch of empty, free-to-enter Sicilian sand. Soon discover why it is so empty, public kept away by fierce glare of a Baywatch stylee lifeguard babe … I mean A Really Scarily Fierce Glare (and I've been married). A Really Scarily Fierce Glare that had put the locals, as well as me, right off the idea of attempting some swimming there.
Decided I'd be better off on the 900, carrying on riding along the SS113, dicing with imminent death threat of crazy Sicilian driving.
So, slink away.
Soon find comfort in the open to all welcome of a local gelateria on the southern side of the main road through Villafranca Tirrena, wherein served the very best coffee ice cream I have ever tasted … mmmn, mmmn … with real, crunchy roast coffee beans in it too … oooh! Real serious temptation … but one portion inevitably leads to another. Compliment the proprietor on his superb product. Take my leave.

Coast road quite a stretch of built up ribbon development, that's tedious through the towns, unless one rides like a fearless young Sicilian. For a reasonably responsible old fart like me, the going gets interesting out of town, quicker and curvier … well worth it when it does … except for the unknown oncoming around the blind-bends, and one alarming almost head-on moment along an otherwise empty straight, as some plainly visible oncoming joker deliberately swerved his car across the white line towards me … Grrr And Double Grrr. Road-Raging Hot Flash of wishing an ill-conceived instant revenge involving roadside stones, pursuit, velocity and gravity. Calm, calm, manage to think calming thoughts and carry on enjoying making progress through the scenery (whilst in my retribution dispensing minds eye … Kaaapowie!).

Negotiating more hairpin bends, slow'ish at 3,000rpm'ish, becomes a nervous, front wheel a bit wobbly affair, that leads me to suspect that the 16" front Bridgestone has worn past its best … either that or the irregular front wheel wobbliness is a result of uneven bulky luggage distribution, being too heavy on the rear. Tyre pressures are checked and Ok. Suspension, to me, seems to behave as it should be. But I don't fancy unpredictable front wheel wobbling spoiling the fun of all the way around the coast of Sicily … Hmmmn. Maybe it's time to head south for home?
Sun sinking out of the sky, ever closer towards sunset immersion in the ocean.
Too late to head for Pozzallo for any homeward bound sailing tonight.
Whether it be about to be Home Time or not, passing through another small town, it is time to find a source of sustenance before the locals shut up their shops for the night.
Spot a passing supermarket. Slow down for a u-turn back to the shopping opportunity.
Park 900 within walking distance of the supermarket doors. Enter emporium and shop.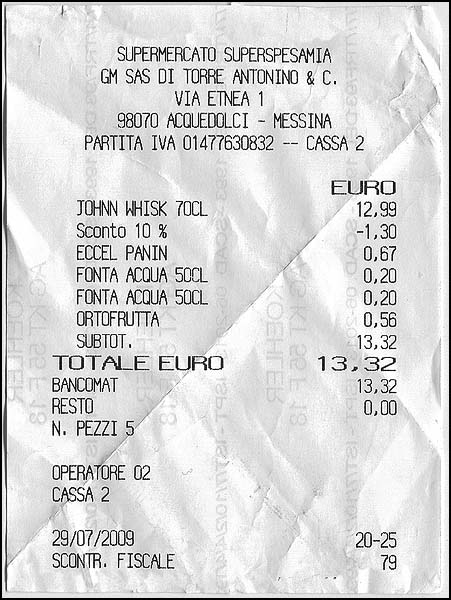 Well, well, well. Johnny Walker … fancy finding you right here in northern Sicily … and at only €12.99c for 70cl, and with a special reduction of €1,30c … How could I possibly leave you languishing forlornly upon a supermarket shelf in Sicily? C'mon down and join me on my journey.
Brave Johnny does.
Further westward we go along the coast road, into the setting sunlight. Spectacular cliché sunset colours daubed across the sky. First stars appearing above, while we go riding through the dusk below, the cool evening pleasant after the heat of the day. Headlight illuminates the almost empty SS113, perfect fun and games all the way along through the dark until suddenly I see the shinning sign welcoming me to the three-star Hotel Za'Maria, Canneto di Caronia.
Done enough for the day. Time to halt for the night. Check out the three-star Hotel Za'Maria. Enter, with my Italian phrase book at the ready, approach the receptionist …
"Mi Scusi, Buona Sera Signora … er … Ho bisogono di una stanza singola con doccia o bagno … er … Per piacere ?"
"Yes Sir, a single room en-suite for one-hundred euros per night." (my Italian must be just so English).
"One-hundred ! No thank you." I turn to leave.
"Oh … Sorry Sir, I make a mistake, that should be seventy euros per night …"
"Ok."
2200 hours. Ensconced within room 302 of Hotel Za'Maria, Canneto di Caronia.
During daylight the balcony would be overlooking the ocean, window open, I can here the soothing lapping of sea on shore. More immediately, balcony perfect for an overnight airing of the DM's.
But first things first … text number of location to the Half-Italienne, then it's strip, hot shower followed by a cold shower, then it's drip-drying while sipping a long Johnny Walker and water with ice from the mini-bar … aaah. Then stuff myself with peanuts from the mini-bar … engmunchgngmunchengmunch.
Lay back on comfortable bed, muted Sicilian tv flickering distractedly at me.
Phone rings … "Buona Sera Hanini …"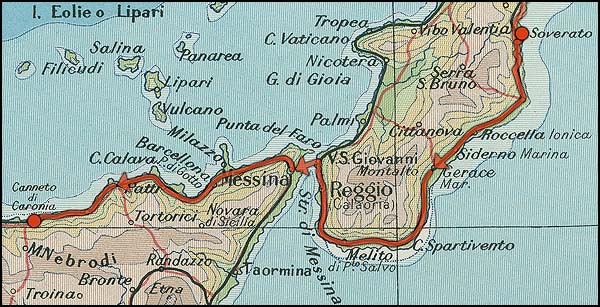 Faint rumble, approaching rumble, rumble, rrru-oar-shhhwooossshhhrumble, rumble, rumble …
What the … ? !
Swiftly to the balcony to see below me train carriage lights disappearing, fading away, rumble, rumble, rumble… along an invisible track towards the west. Remember then that I'm naked, on a balcony overlooking a darkened railway line and the black sea and whatever else might be out there looking back up at me … privacy of room 302 regained swiftly.
G'd'night'all.