Devizes - Malta
Tuesday 21st July.
Ugh.
Awake at … wha? … 6.45am …!
Sensibly fall asleep for another hour.
Regain a semblance of consciousness.
From outside I can hear the busy sounds of traffic, buses, trucks, cars, mopeds and motorcycles … which means, it must be continental rush hour.
What time do they have continental rush-hour?
First things first.
Get up, pull back the curtains, open the shutters, look out to check on 900 …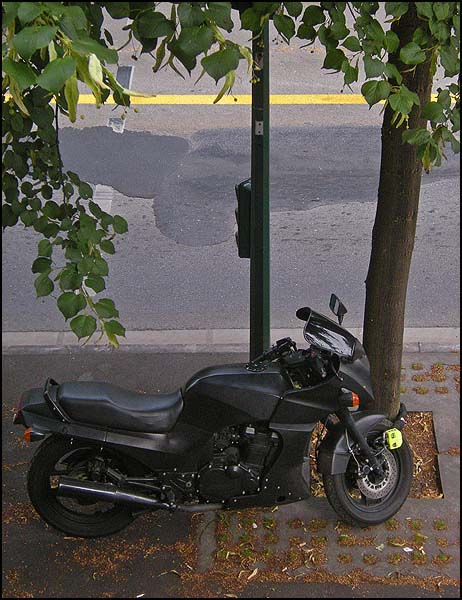 It's still there!
But what if it wasn't … ?
… That's a downright gloomy possibility to address at the very start of sunny Tuesday in Reims.
After twenty-five years, the shock of one morning discovering the 900 Gone … !
Bereft and Stranded.
Would I embark upon a Hollywood Heroic Crusade, to track down and release my beloved motorcycle from the cynical clutches of a vicious Gang of Bike Thieves ?
Could I call upon the French members of the Gpz-OC-forum for help?
Would there be dramatic, edge-of-the-seat, high-speed-motorcycle-chases through the champagne region, leading to scenes of gratuitous violence, police brutality, corruption at high levels, Gauloise smoking … casual sex and heavy drinking?
But The 900 is still there, secured to the same stout French street tree that I left it attached to previously.
Better get showered, dried, dressed and breakfasted, before the other guests snaffle the all the fresh croissants and drink the strong black coffee pot dry.
Do so. Attempt conversation with the Hotel Dayman, who seems to be the same person as the Hotel Nightman, but confusingly for me, in broad daylight, he seems unable to speak or understand any english word I say. Just about get by with my limited parlay Francais and the multinational gesticulation. Did I imagine last night's Frenchman's fluency … Am I losing my grip on reality? Or is it Englishman-abroad-the-natives-all-look-alike-to-Me?
Back to room No.8. Complete the less sanity-challenging, yet essential task of The Big Black Bag re-packing. Now, with the picnic pork pies finished, the remaining contents of The Big Black Bag are robust enough to be sat on and squashed into submission for effortless zipping up.
Humping of heavy luggage downstairs to 900.
Systematic bungeeing ritual methodically accomplished in the warmth of the morning sunshine.
Engine starts first time, reassuringly smoothly warming up while I take another on the spot shot of it for you lot.
Odometer at 71017. 2686 road miles since leaving Floriana.
Though I suppose, now that I'm on my way back to Floriana, the pedants among you'll be wanting me to deduct the miles travelled from Devizes from the eventual total travelled between Devizes and Floriana. A sort decreasing miles-to-go thing. But that'd kind of spoil the fun of wondering how much further I have to go to get home … and is a far too complex calculation for contemplation, let alone computation, this early in the day.
Navigation is the thing on my mind this morning.
Do I take the straight road to The Alps, or shall I attempt to find my way via Les Ricey?
Les Ricey is a place somewhere to the south east'ish of Troyes. During the mid'ish 1980's The Martin Green (He's had, got through, three Gpz900's since then ... while I'm still only on my first one!) generously introduced us to chums of his, champagne grape growers and motorcyclists Sylvan & Yolande, a friendly French couple who, at the time, made us brits very welcome in their home and heartland. Twenty-two'ish years of time has passed by. As the weather is wonderful for indulging an exploratory whim, I'm seriously tempted to drop in totally unexpectedly upon 'em … that's if my memory can guide me to where they used to live.
Consult map. Les Ricey appears to be just off to the side of my general heading towards the Alps.
Right then. Do I or don't I?
"ahhh g'wan!" the normally cautious voices encourage me … So. Destination Les Ricey.
Get going. Manage to get out of Reims after only one minor wrong turn, necessitating going around past the river, through the edge of the city centre again …
Onto the A26 autoroute. Going south beneath the sun. Helmeted head down out of the buffeting slipstream that's whipping up and over the screen, chin bit comfy resting on the tank-bag. Concentrating on the vanishing point, the mirrors and the mechanical harmony of high rpm 900cc. Streaking along a clear stretch of autoroute, experience another one of those heart stirring, Awww-gee-this-Gpz-is-Glorious-I'm-astride-a-guided-missile moments.
Give the 900 an affectionate, appreciative squeeze with me knees and murmur, "You know I love ya!"
"You forgot to check the oil level before you set off … didn't you."
The Voices return to chasten me.
"And when was the last time you looked at the chain … have you any idea if the Scottoiler is still doing its job …Hmmmn?"
Glorious moment turns rapidly to guilty of neglecting the beloved.
Here I am, living the footloose and fancy-free high adventure through France, and suddenly it's all down to earth with a practical mechanics and rational motorcycle maintenance regime bump.
Ok, Ok, Ok. I hear you. No use ignoring you. I'll pull over at the next services and see what's what.
900 now sounds as though all within the engine casings are just hanging on by a thread … about to let loose at any second !
Throttle back and cruise twenty-five year old engine considerately to next exit. Low revs through service area, roll to a halt on the hard shoulder/truck parking area before the exit back onto the A26.
Engine off, side-stand down, dismount, heave 900 and heavy burden of luggage inertia up onto the centre-stand.
Ok, Voices. I'll let the oil level settle whilst I check out the Scottoiler function and delivery.
Look at that chain. Perfectly clean, well lubricated and appears well within service limits after 2686 road miles and more since leaving Floriana.
The Voices make no reply.
A rider on a canary yellow Triumph approaches, slowing, giving me that subtle 'Are you OK? Do you need any assistance?' look.
Give him back the Thumbs Up and a suitably subtle, Appreciative Nod.
Canary Yellow Triumph rider matches the subtlety of nod, drops a gear or two and howls off onto the A26. A glimpse of a Uk plate disappearing off into the distance.
So, whoever you were. Thank You!
Isn't it great being part of such an irregularly anonymously internationally altruistic section of society!
Get back to work, checking the Scottoiler RMV oil level. It's OK, still being kept full by the flow from within the modified sub-frame box section reservoir that supports the tail section and seat of the 900.
Approaching deep rumbling growl, powerful thundering roaring reverberations assail ear-plugged ears inside my helmet. Look up to see a close formation pair of low-flying French Air Force Mirage jets thunder ear-splittingly-ground-shakingly through the sky above me … wow !
This Most Excellent Photography of Mirage Jets over Reims-Champagne by Christophe Selzere.
(Merci très beaucoup, Christophe!)
Squat down to peer at the oil-level sight glass to check 900 engine oil level … looks alright to me.
Another deep rumbling growl, powerful roaring reverberations assail ear-plugged ears. Look up again to see another close formation pair of low-flying French Air Force Mirage jets thunder ear-splittingly-ground-shakingly through the sky above me … double wow !
Hardly a dull moment, so far this morning.
Sit astride 900, prepare to set off again.
Turn to look eastwards across the autoroute whence came the jets, and yep, you guessed it, here come another close formation pair of low-flying French Air Force Mirage jets thunder ear-splittingly-ground-shakingly through the sky above me … treble wow !
Merci beaucoup French Air Force. C'est Magnifique!
The Voices have shut up.
Off I go again, piloting my low-flying 900 southbound, as the Mirage couples swoop through long port turns, sunlight glinting off canopies, jets on a heading that has them re-crossing the autoroute before me.
Carry on along the A26, across an expanse of wide open, fertile French farmland.
Concentration. Paying attention … whether dancing from side to side on the pegs going through bends, or the motionless, tucked-in-tight-body-aboard-at-high-speed. Achieving that meditative mental awareness for the man/machine harmony essential to motorway, city or country road survival, is one of the aspects, states of mind of riding, that has always appealed to me.
Far ahead, spot one of those roadside-radar-camera-combination-installations. Naturally, as an Englishman abroad, I am responsibly trundling along at the correct speed for the autoroute, so no panic braking necessary … carry on at quite the pleasant pace for remaining cool as the heat of the day increases.
Pass Troyes, turn west along the E54 for a bit, then south, off through the €6.20c toll, onto the D671 towards Bar-s-Seine.
The journey gets even more enjoyable now, as I'm on proper, interesting local roads with an irregular mix of houses and shops and bars and garages and fields and farms and agricultural supplies stores and ruins and new IT offices between the junctions along-side 'em.
Ride into Bar-s-Seine and stop for dosh. Then ride on through the town to find a source of essence sans plumb. Odometer at 71112, 2781 road miles from Floriana, Top up with 13.6L of fuel for €17.00c. Surly looking youth in the petrol station pay booth suddenly becomes charming and communicative after I commence the transaction with a "Bonjour Monsieur …"
Out of town, still on the D671, suddenly come upon the familiar looking turn-off of the D452 towards Les Ricey. Here we go; along tree lined roads, bursts of acceleration between corners, glimpses of fields and vineyards and then Into Les Ricey, where wine making time appears to have stood still, the town centre remaining almost exactly as I remember it, un-spoilt, verging on the medieval.
Now. Can I retrace my tracks back twenty-two'ish years to find the home of Sylvan & Yolande? Time passes, lives happen, they may no longer live there.
This is Mad.
But then, this whole Malta-Devizes-Malta jaunt is Mad (But Jolly Good Fun nonetheless)!
Memory insists their house was out to the south west of the village, to get to it one had to go past what was then the newly operational champagne factory run by René Bauser, the guy to whom Sylvan & Yolande sold all of their grapes to make the Bauser Champagne.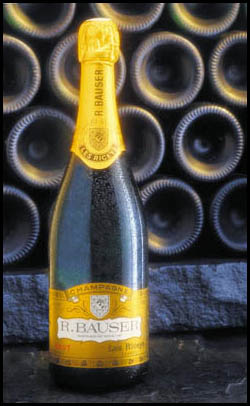 Made this image for them in the 1980's.
René was a motorcyclist too. He let me loose on one of his 200cc dirt bikes and led me through and along and up and over the trails they rode around about the vineyard slopes and surrounding forests. Bloody good fun, and off-road riding I'd never ever before done.
Remember evenings spent with the two families, eating, drinking champagne and lots of good-natured laughing at how appalling was our attempt at French by Englishmen abroad.
There's the house!
Park outside.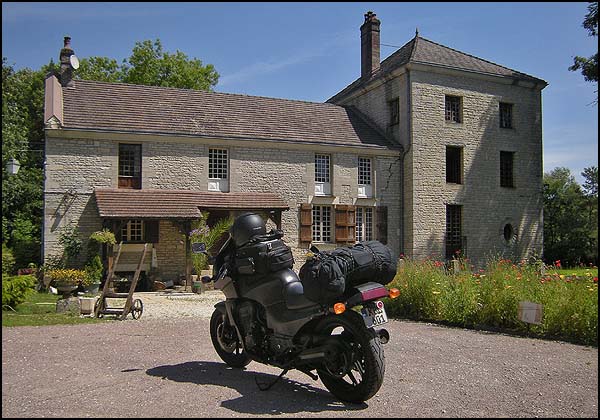 Knock on the door …
Big-mfofa dog slams up against the inside of the door, big-deep-throaty-growling-snapping-gnashing-sharp-teeth-relentlessly-barking-its-head-off.
Step well back.
Wait awhile.
No response other than that of the continuing manic crashing bashing barking of the hound from hell let loose inside the house.
Ok. No one is in.
Leave an explanatory note with my mobile number on it pinned to the door-post.
Meanwhile I'll go into the village, see what's what, come back to the house again later.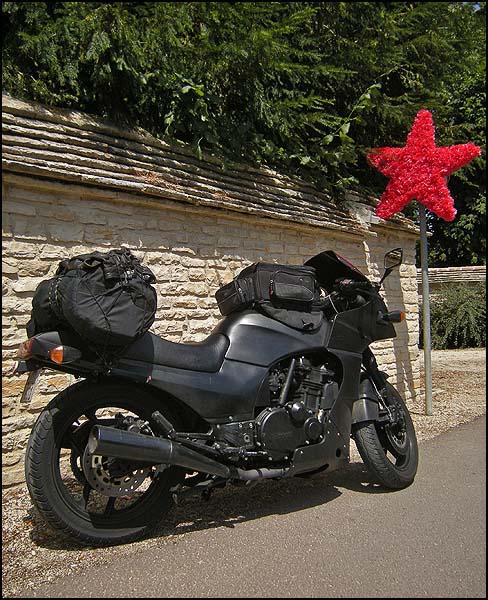 Les Ricey seems to be in the midst of some sort of champagne festival, flowers and banners and things here and there draped about the place. But nothing much is happing in the heat of midday. All of the shops are closed for lunch. I'm pathetically unable to make myself understood in French. But one Les Ricey shop girl takes pity on me, and opens up to sell me some ice-cold water. Bless You!
Refresh myself.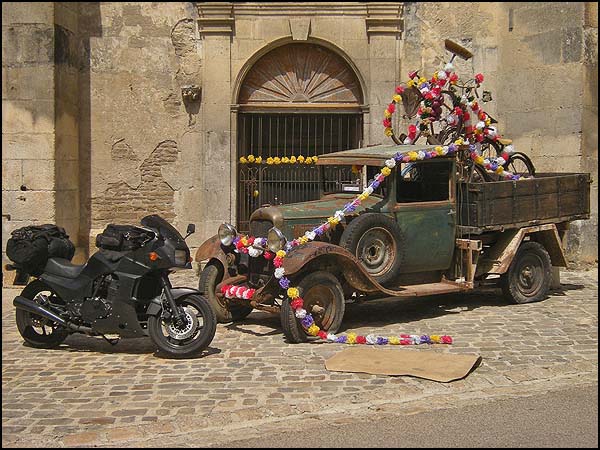 The go riding through the old streets, find more evidence of the festival spirit.
Eventually spot the sign for Rene's champagne factory. Of course the whole appearance of the place has changed a lot during the intervening years. Now the premises are bigger, better, grander and even has receptionists … who unfortunately are just about as fluent in English as they are pleased to see road grimy dusty stranger, disreputable looking me. Which, hardly surprisingly, is Not a lot at all.
Speaking the little French I have to no intelligible effect, I realise it's pointless to continue, give up trying to explain that I'd like to speak to their boss, as by now the girlies are getting defensive, worried looks on their faces as they start to wonder what this wild, jibbering motorcycle man wants. So. Give the receptionists my best impression of a polite gallic shrug and a smile … walk away. Start the 900 and sod off … before they call the Gendarmes.
Check back at Sylvan & Yolande's house. No one in, no change there … Big-mfofa dog still alert and on guard duty inside the door, big-deep-throaty-growling-snapping-gnashing-sharp-teeth-relentlessly-barking-its-head-off.
Ok. Leave Fido to it.
That'll teach me not to drop in on folk unannounced.
Time to Go.
The D953 welcomes me and my Mad Carry On along a lovely road ridden from Les Ricey to Laignes, next choose the D21 towards Dijon, which on this balmy Tuesday afternoon turns out to be a fab 'B' road, almost devoid of other traffic, apart from the obligatory Hippies/Crusties trundling along in an old VW camper van. I surmise that the D21 is the road less travelled because it runs parallel to its usurper, the more modern, faster, smoother D971 to Dijon. But the D21 … Oh Joy and Great Riding along it is for me, through a rolling sea of grainland growing on either side of the road.
The only signs of life are, as far as the eye can see, isolated members of a fleet of mighty combine harvesters munching their way remorselessly through the grain, leaving wide swathes of stubble along which their attendant tractor trailer drones approach closely to suckle and carry away the gathered grain.
The road dives through woodland of oak trees around fields thick with tall, bright green stalks topped with yellow sunflowers. High velocity insect impacts on visor increase with the change in agricultural usage.
Slow to a stop at the edge of a sunflower field.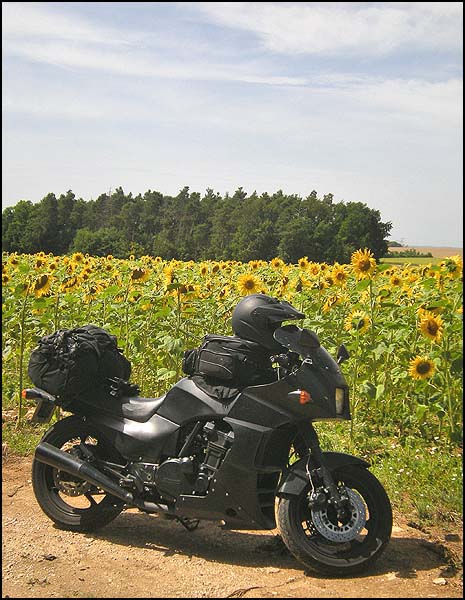 Need to clean the bug splats off my visor, take a leak, replace what I piss out with some fresh water taken in.
Up close, each sunflower head is buzzing with pollinating insect activity.
Stand in the shade of an old oak tree, look about, take in the scenery. Tempting to sit, fall asleep in the shade of the old oak tree to the ceaseless, soporific insect buzzing in the heat of the afternoon, savour the natural buzz, no, 'old on. That ain't no insect sound … here comes the Hippie/Crustie VW beetle van that I passed some while ago … here it comes - there it goes … swallowed up by a shady road through a forest in the Cote D'Or.
After a rest I follow the Hippie/Crustie VW beetle van along the shady road through the forest.
Fun and games of the D21 come to an end where it joins the D971 to Dijon. The more modern road ribbon flows on through the French factory farm-scape … distant combines sailing straight lines towards the horizon through seas of gently swaying grain. Vast, freshly harvested fields being ploughed ready for replanting, just a pert of the huge agribusiness going on all around.
Stop in Saint-Seine-l'Abbaye, just the right place for purchasing local nosh and replenishing supplies of cold water and Red Bull (they should sponsor me).
Carry on along the road which rapidly rolls off of the farmland factory floor, to drop away down through trees and more trees that reveal all-of-a-sudden-cornering-fun, leading one into deceptive sets of curves that wend their way downhill through the trees to emerge in Val-Suzon, through, then an entertaining main road climb up through more trees away from Val-Suzon.
Come to a halt in a lay-by near the top with a view over where I'd just had so much fun.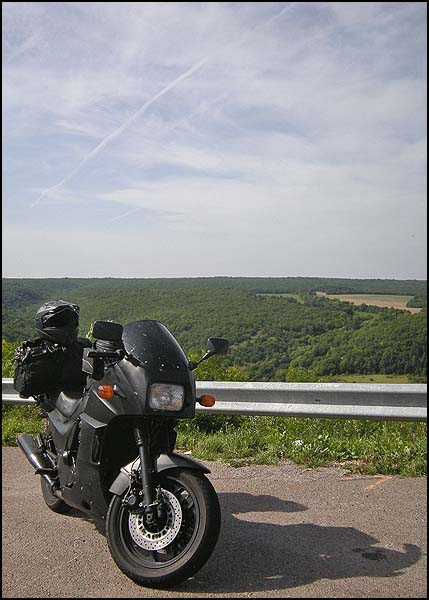 Appreciate the view, take another snap for you lot, then consume some local cheese, washed down with the cold water and Red Bull (they really should sponsor me).
Sated, just on the verge of bloated.
Remember to check oil level. Looks Ok.
Leg over 900, uuurp.
Press the Go stud and off we go again.
The afternoon getting hotter getting closer to Dijon.
Carefully through hot-headed Dijon home-time traffic jam.
Stop for cool refreshment and fuel.
Odometer at 71208, 2877 road miles from Floriana, Top up with 9.52L of fuel for €12.00c.
Carry on, carry on. But exactly where and what route to carry on along now? Study map, looking for wiggly roads through lumpy bits.
Ok. Head south-east to Dole, then south towards Switzerland via some interesting looking wiggly roads that the map shows.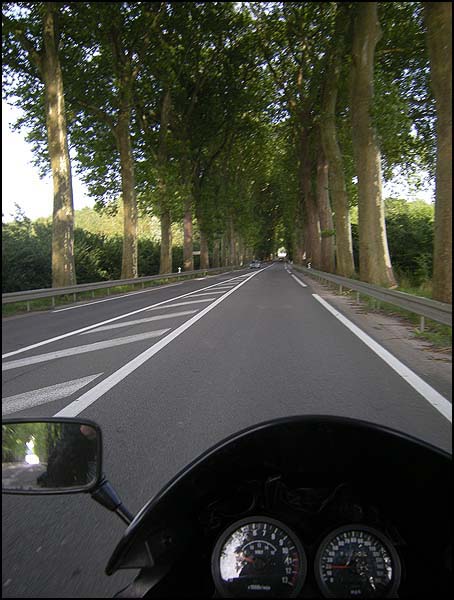 Along the D905 to Dole.
Impressive avenue of tall, mature trees, shady and cool to pass through at a leisurely 20mph. Believe it. So nice I did it twice, though one time somewhat faster than the other.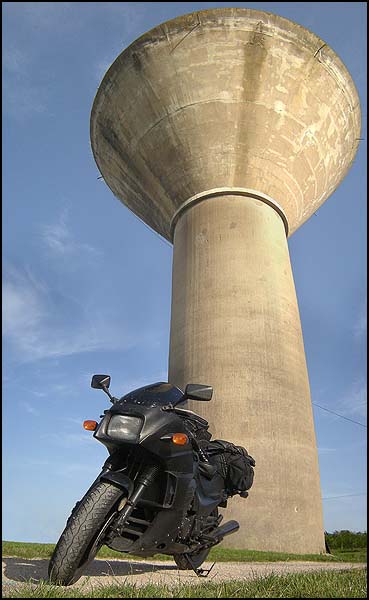 Further along the D905 to Dole.
Monolithic roadside landmark a good enough reason to stop and take a snap, and then a swig of some watery refreshment.
Shadows getting longer and the map indicates that the interesting terrain is still away off to the south.
After a hot'n'sticky day in the French heartland, I'm starting to feel the urge to find a room and a shower and a comfortable bed. Decide to discover the delights of spending a night in Dole.
After 230 miles, just about sunset, check into the two-star, €45 per night, Hôtel Pourcheresse in the centre of town.
900 safely locked and alarmed and tucked away out of sight around the back. My first floor room, tucked away out of sight around the back, overlooking the 900. Perfect.
Hot, muggy evening in Dole. Run a deep, tepid bath.
Unpack Tullamore Dew and invite some of it to go for a lengthy, cooling dip too.
Eventually emerge from the cool water into the warm air, soon dry. Soon asleep.