Malta - Devizes - Malta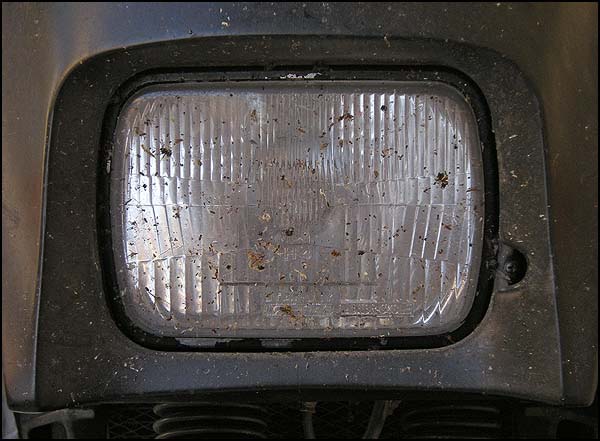 There and back accumulation of bugs splats.


After twenty-four days, the completion of 5,493 carefree miles of charging about, comes the return to Floriana and reality, comes the reckoning. Greeted with great relief by My Dear Sweet Half-Italienne, but find her completely freaked out by the most recent spate of deaths and bereavements. Good Grief … suddenly we are getting old … it must be so, because deaths and sudden, unexpected marriage break-ups seem to have increased alarmingly, disproportionately. Like, y'know, that unsettling sense of trepidation, sense of finality, when you don't get a reply from old friends for a while longer than is normal … the gradually fearing the worst, start to think of 'em in the inevitable, irrevocable, Past Tense.
Old school-mate from Eastbourne, Simon Verral, has gone quiet as the grave these last few years.
And there's been not a replying peep from my cousin Richard (away with his Thai wife in Thailand) for several months now (mind you though, he could be far too busy zipping about the planet having fun).
Who knows what goes on?
Last week I learnt that the great and pleasant old chum, Peter A, had hung himself … The What! and The Why? will forever remain unanswerable questions.

Early August, we go aboard the comfortable Transalp, over the rough roads, to a favourite spot in the south of the island for a swimming jaunt. Isabelle dives gracefully into the calm, clear blue warm water ...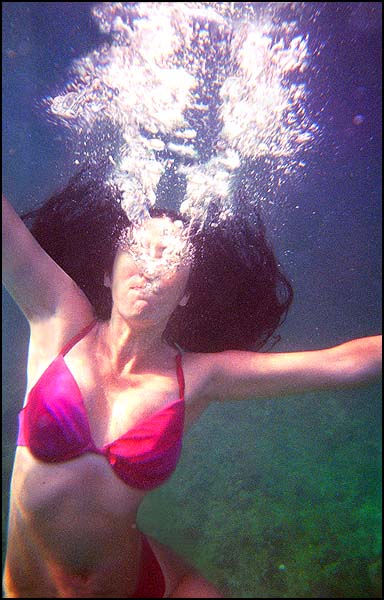 ... surfaces gasping for air, coughing, panicing, thrashing about in terror, the water closing in, frantically grasping at me for support, almost pulling the pair of us underwater … sharp words … order her to lay on her back in the water, hips up, legs and arms spread out. Support her with one hand in the small of her back while she regains her breath and composure, I'm treading water, trying to calmly reassure her she's safe … just as long as stays calm, trusts me and the sea to support her, as I guide her tense body through the surface of the water towards the rocky shore and safety. The tenacious Half-Italienne's condition of pulmonary fibrosis has deteriorated during July while I've been away.
Since then, Isabelle has been in The Mater Dei hospital twice … consultants, tests, increased dosage of steroids, new medication … to absorb enough air, now, Isabelle needs to supplement her diminished lung capacity with ten-minute sessions of breathing pure oxygen from a cylinder.
Can't perform a DIY fix upon the inflexible lungs …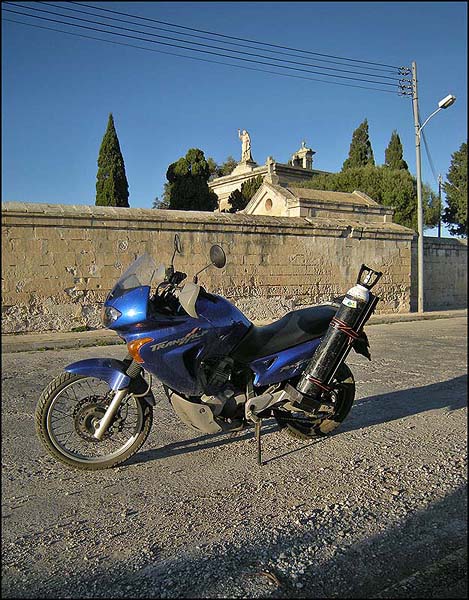 Transalp, pausing during transportation of the O2 cylinder for Isabelle.
… but can adapt the Transalp to transport Isabella's essential O2 cylinders from the O2 depot in Luqa, to Floriana. Adapt, accommodate, support.

But I digress … "What of the 900's tyres?" I hear you ask.


The Tyre Wear Report.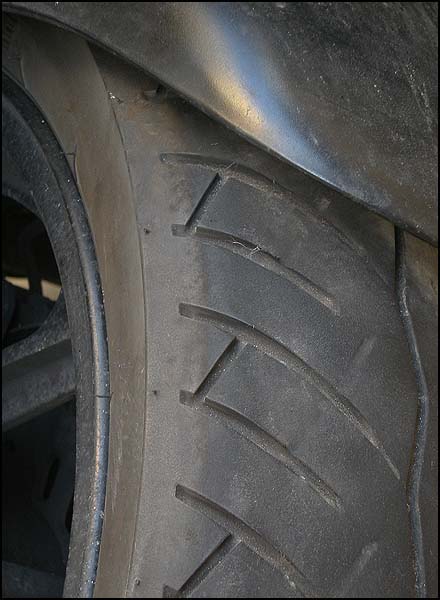 The front tyre wear.
Winter & Spring 2008 renovations to my Gpz900 took place at the 64,258 miles mark.
At that time, Lord White Wheels supplied me with restored front and rear rims fitted with fresh 120 front and 130 rear BT-45 Bridgestone tires.
Once 900 fully fettled, there followed 404 West Cork road miles of running-in / leak-finding-and-fixing after the renovations.
Set off to Malta from Myross on the 16th June 2008, 900's odometer showing 64,662.2 miles.
2,290 miles and twelve days later, Arrived at the half-Italienne's front door in Malta, odometer reading 66,952 miles.
Then twelve months of farting about Malta on the 900, covering 1,334 miles!
Odometer at 68,286 miles for the service that took place before the Malta – Devizes – Malta round trip of 5,493miles.
Returned to Malta, odometer reading 73,779 miles.
Since return, ridden the 900 just 295 bumpy miles about Malta.
Current mileage of 900 now stands at 74,074 miles.
So, by my calculations … the Bridgestone tires that Lord White Wheels supplied me with have done 9,816 miles.
The rear tyre wear, with cracks in the evident on return to Malta.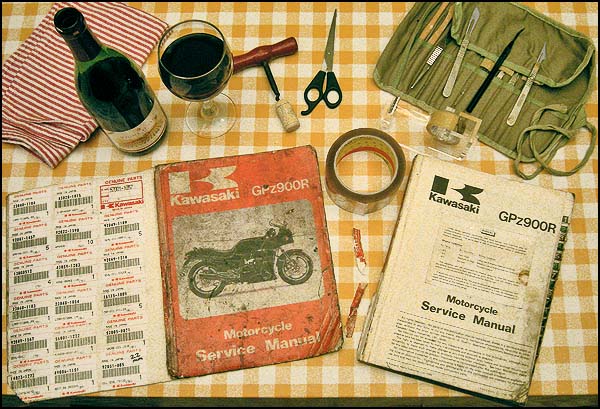 More wear and tear, after 25 years of regular use, time for some relaxation, renovating the 900r Service Manual.
Portable, random access navigational and translational lingual databases used during the jaunt.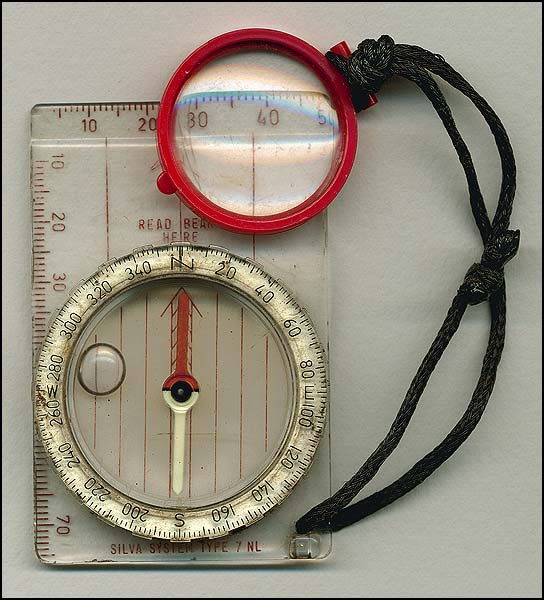 My essential, solid-state, self-contained, liquid dampened, Which Way is Up, portable global positioning indicator, being Yorkshireman Jeremy Stubley's gift to a Soft Southerner, to facilitate the orienteering connection between map and my perceived reality.

Stuff taken and found to be especially useful;
Visor cleaning fluid.
Quantity of engine oil.
Fuel tap repair kit.
Reassuringly Heavy Security Chain and Annoying Boss Alarm.
Waterproofing products.
Digital camera and digital camera battery re-charger.
i-phone.
Note pad and pen.

Stuff taken and, thankfully, not needed;
1. The Just-in-case-caught-short-Bog-Roll.
3. Puncture repair kit.
4. Loctite form-a-joint, last chance plug a leak compound.

Now so, The Statistical Analysis, accounting of the Malta - Devizes - Malta jaunt.
1. 1,988 road miles travelled in four days from Floriana front door to Devizes.
2. 203 litres / 53.6 gallons of fuel used (averaging 37 miles to the gallon, yikes! Big Black Bag drag factor? )
3. €304 total of fuel cost.
4. €285 total of ferry fares.
5. €111.20 Toll road fees.
6. €213 four nights accommodation.
7. €913.20 Total (€0.43.96c per mile)
8. Totally Mad.

Devizes to Malta, the wiggly return journey.
9. 3,505 road miles travelled in sixteen days from Devizes to Floriana front door.
10. Devizes to Malta Petrol = 386.27 Litres = 84.96 gallons = 41.25 average mpg (after Craig had carb balanced).
11. €469.36c total fuel cost.
12. €62 total of return ferry fares.
13. €70.00c Toll route fees.
14. €648 sixteen nights accommodation.
15. €11 for an extra litre of the expensive synthetic oil. Total Oil consumption = 1.8L during 5,493 mile jaunt.
16. €200'ish Nosh & liquid refreshment for me.

17. €2,413.00c Total for the Malta – Devizes - Malta round trip of the 900 and I, there and back through Sicily, Italy, France and England. (€00.43.92c per mile).
18. Well worth every cent.

One Life.

Credits.
Isabelle Borg.
The Gpz900r.
Mr.J.D.G.Dingli.
Craig Davies (Lord White Wheels - Gpz Zone Supremo - Our Hero).
Alex Gibbons (Solicitor par excellence – Clonakilty, Co.Cork).
Ollie & Susie Nares.
Derry & Rosalind Robinson.
Adrian, Mary & Kathleen Faulkner.
Lucy Freeman (Myross to Malta 2008).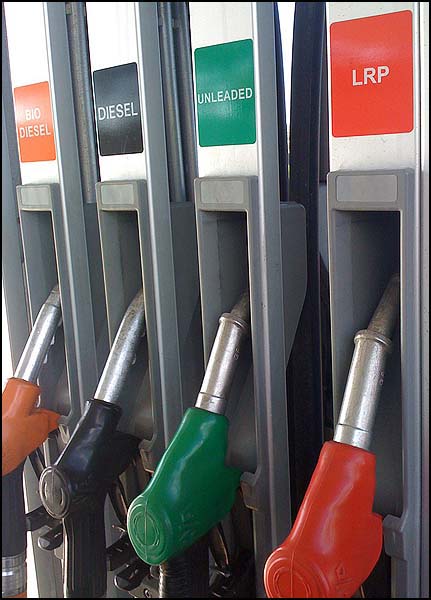 Still available, Maltese LRP, suitable for an '84 Engine.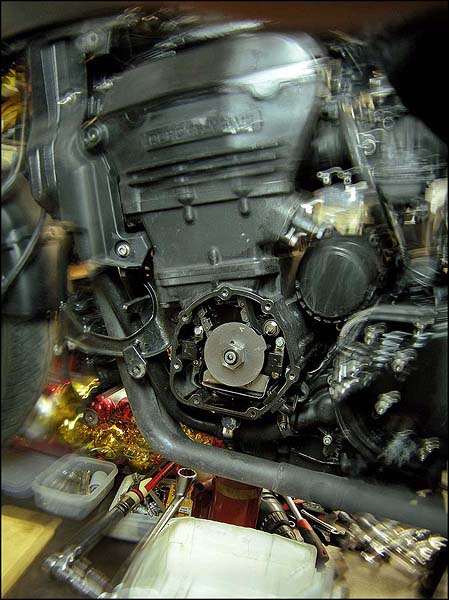 Pre-Christmas, MR P's Ignition Advance Plate gets installed …
Then soon, when the 900 has fresh tyres … dry roads … let's see how it goes.
Christmas illuminations, 2009.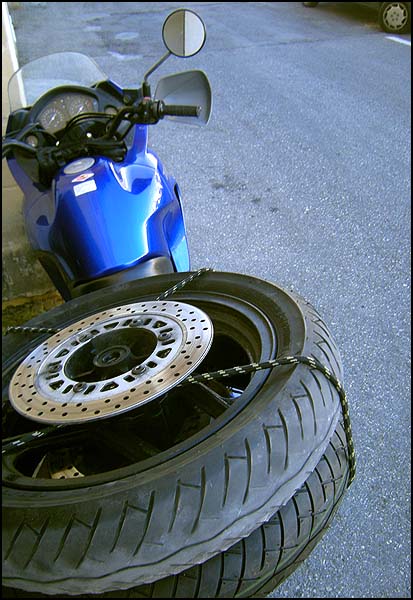 The Ever Versatile Transalp (Ute of the motorcycle world) about to transport Gpz900 wheels to the tyre-fitter in Mosta.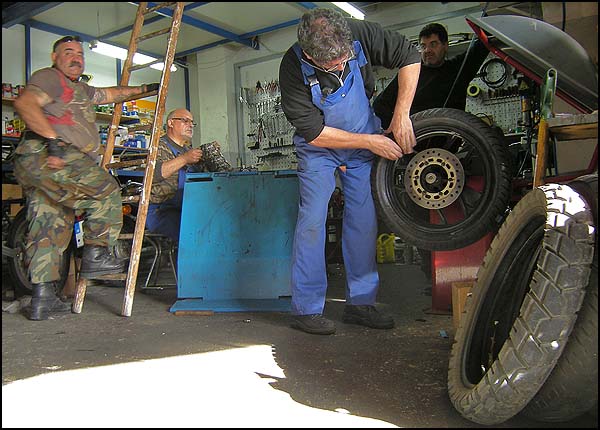 Maltese motorcycle-tyre-fitter, Stephen Cremona, at it, balancing the 900's 16" front, whilst under the discerning scrutiny of customers.
Pre-New-Year-900. 30/12/09. Awaiting the return of the rims shod with the new tyres.

Having noticed my interest in motorcycling, a well meaning, non-motorcycling friend gave me a book entitled 'The Long Way Down.' It appears to be a book about the travels of a couple of well-heeled Media Luvvies on Beemers, who intrepidly set forth upon a pair of BMW motorcycles for a 15,000 mile, overland adventure across Europe and Africa, … with just the bare minimum of two support vehicles and the obligatory documentary makers along for the ride.

Makes my paltry 5,494 mile, The Quick Way There & Wiggly Way Back Again, seem just mere bagatelle. Even more so now, with the Pulmonary Fibrosis that the Half-Italienne is suffering from progressively getting worse and worse, the incapacitation insidiously dragging her day after debilitating day toward an inevitable death by suffocation.

What can you say to the gradually, inevitably, breathless, gasping, dying woman you love?

The Doctors come and go. Their departing words are uniformly pessimistic. 'Consider euthanasia …' one of 'em says quietly to me, '… not here, not in Malta, but abroad … somewhere.'

Feck

Remember Chums … One Life.

Make the most of it and have a Happy New Year !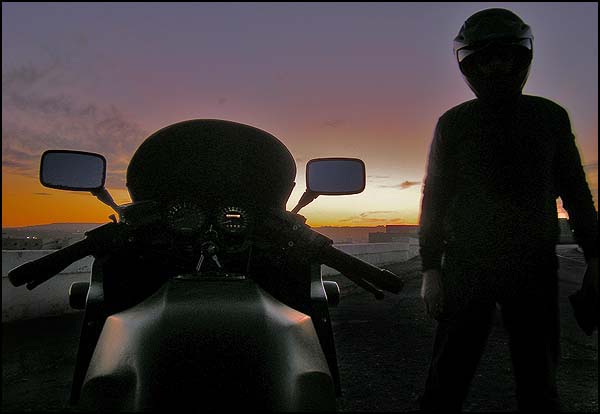 Sunset over Malta - 5.20pm January 1st, 2010.