Friday 17th July.
Yip-yapping from outside awakens me.
Get up.
Pull curtains back to reveal view of bushy, tree-lined Lewisham backyards.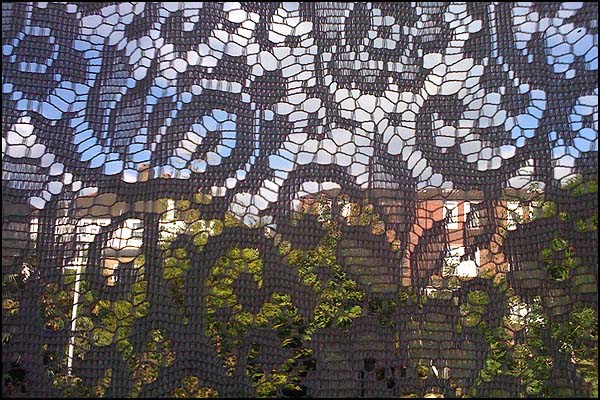 Down below in A&M's garden, the source of the yip-yapping – a fine, healthy looking Fox. And he's looking straight back up at me.
Mouth 'Goodmorning.' At the big red fella.
Fox mutters something in reply and then athletically leaps up and over the fence and trots nonchalantly away down an alley.
Bustle from kitchen area of Adrian off early to work.
Tea & toast time with Mary before she's off to her work with the reality challenged children of South London.
Plan for the day, to attempt another foray into central London. Check out Grays of Westminster, a photographic supply company in Pimlico, to see what's what with modern Nikon camera equipment.
Then call in on M.Rowe, a slightly older than me motorcycling chum who should be at work nearby in SW1.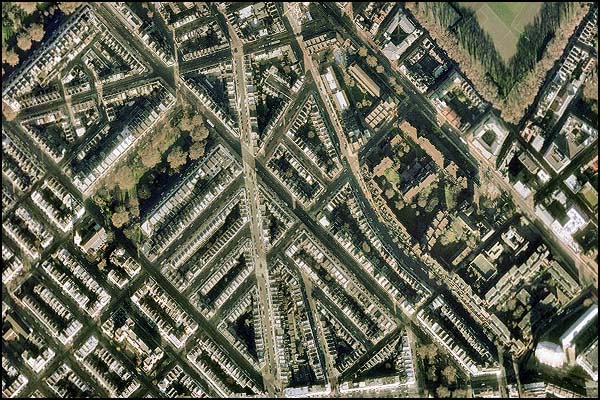 'Watch out. I'm on my way,' text message sent to M.Rowe (who, until know, doesn't even know I'm in the country).
Set off into the wacko traffic, but soon pull into a petrol station for a top up and a respite from a jam of trucks and buses that congeals around me at the bottom of Loampit Vale.
Odometer 70701. 2370 road miles from Floriana. 15.5L fuel, £16.01.
Trucks and buses disperse, I carry on my where-the-whim-takes-me route through New Cross, Camberwell, Kennington, past The Oval, and over the water to SW1.
Find M.Rowe sitting on the steps outside his studio, fingering his i-phone and still puffing on a fag.
Wafting fag hand about he motions me to park my all black 900 next to an all-black Yamaha R6.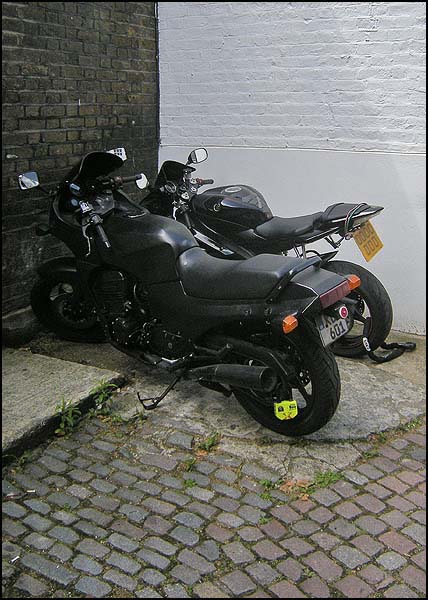 M.Rowe ambles over and says, "So. You've still got this old thing, eh? …"
Ask him what happened to his most recent Fireblade? "Oh, I got fed up with them nicking them as fast as I could replace them … so, before the last 'Blade could get nicked, I traded down for a somewhat less nickable Yamaha R6 … as you can see, not been nicked, yet (touch-wood) … and the R6 is a great bike for town. Wouldn't travel on it the distance you managed – my bum aches just thinking about it…!"
Hmmmn.
To have comfortably travelled so far, I suppose that I must posses a rare and, in some ways, enviably special sort of ass.
M.Rowe and I last met in Clonakilty, West Cork, Ireland, about five years ago.
"Where are you living now, and what are you doing back in London?" he asks.
"Malta, for a year. Malta to Devizes for Gpz900's 25th Birthday Bash with many other members of the Owners Club. Now about to be heading back across the continent, thought I'd pop in and say Hello."
Short Q&A session satisfies M.Rowe's curiosity.
He then gives me the studio tour and some tips on what contemporary designers do and need others to do. Useful tips for me to ponder as I wander around to check out the digital Nikon shop nearby, where they seem particularly blasé, as though my desire to spend a not inconsiderable amount of money on their product, is really hardly worth their bother. They say they'll post me brochures and prices. Ok. We'll see.
Return to M.Rowe's, and, as it's just about lunchtime, we're out to lunch, sitting in the sun, pavement tables outside The Local Pub.
Same as it ever was.
Time for back to doing some work for M.Rowe.
Time for back to doing Malta to Devizes to Malta for me.
Now so. At the request of the Half-Italienne, I'll go see what's occurring on the Anthony Gormley No.4 plinth in Trafalgar Square, then the plan has me head on up to the virgin Megastore and buy myself a copy of William Orbit's latest; 'My Oracle lives Uptown.'
Spitting spotting with rain in Trafalgar Square. Stuck in traffic, other riders pulling up alongside and asking what the 'M' on the 900's EU number plate stands for. Most of 'em haven't a clue what or where a Malta is.
Distracted by the amusing sight of a white tiger in a sober grey business suit waving at me from up upon Anthony Gormley's plinth, the spitting spotting of rain, the other riders, the frantic traffic, totally forget to go to the virgin Megastore and buy myself a copy of William Orbit's latest; 'My Oracle lives Uptown.'
Instead, head on down towards Parliament Square, then west along the embankment, on a spur of the moment pilgrimage to Chelsea Bridge.
Oh dear.
Once Hallowed Ground.
How melancholy to see what has become of what once was.
This is how it appeared to me, back in '83.
Much the best way to remember it.
( http://www.grahamcooper.net/Chelsea_Bridge/300_chelsea_bridge_1.html )
Somberly away, through the summer drizzle towards Lewisham, but soon get distracted by the bright lights of a Motorcycle Emporium at the Kennington end of Vauxhall Bridge.
Park on the forecourt, adding dodgy looking, twenty-five-year-old 900 on the end of a line of shiny new Kawasakis … while I surrender to the siren call of consumerism and am drawn inexorably deeper within the bike bling emporium … oooh … aaah … Great effort of will to break the Shiny New Motorcycle spell. Just about resisting an almost overwhelming temptation to part with lots of dosh for expensive motorcycling accoutrements …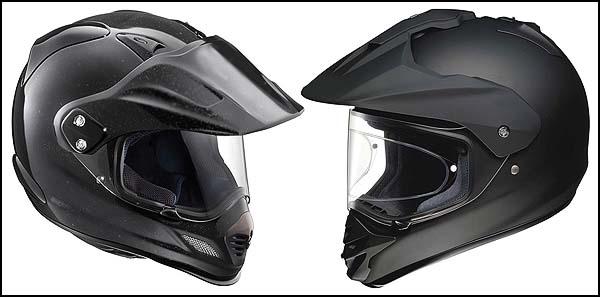 ... just.
Spout outright lie to escape the salesman's mesmerizing eye and flee from the Arai / Shoei helmet honey pot.
Furtively remove the 70000 mile travelled 900 from the end of the line of brightly coloured, shiny new Kawasakis
The Voices dubbing un-favourable comment comparison over the mute lips of the uninformed passers by.
My ears hot and reddened. Slink away on the Nine from the imagined taunts and jeers, south-eastwards to Lewisham.
Find Ade back from his days work, relaxing, feet up in front of The Telly, watching the second days play of the second Ashes Test match.
Make a couple of cups of Tea.
Occupy the second sofa, also, relaxing, feet up in front of The Telly, watching the second days play of the second Ashes Test match.
Getting comfortable, murmur of commentary, edging into the snoozing zone … I say! … an Australian wicket falls!
Followed shortly thereafter by another, then another, then another, then another, then another … Adrian joyfully doing a jig, enthusiastically dancing Mitzi the cat about.
Plucky tourists lose six wickets for 49 runs in 16 overs !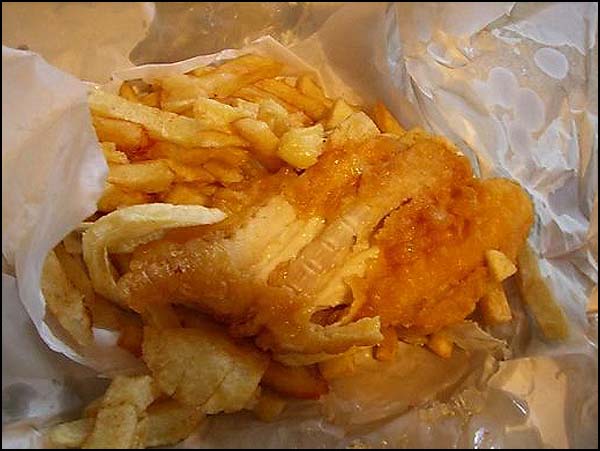 Celebratory Fish & Chip supper gives me the opportunity to partake of a rare treat from the excellent Five Star Fish Bar, at 175 Lee High Road. Serving perfectly battered and deep fried Rock/Huss & Chips with a sprinkle of pickled onion vinegar and a Big Dill pickle … oh You Lucky South Londoners!
Rest of the evening spent toasting cricketing heroes … Jolly Good Show the England XI !