Devizes - Malta
Thursday 16th July.
Comfortable sofa that one. Slept well on it.
First thing in the morning, Ade takes his daughter off to the airport to catch her holiday flight. But before leaving, she offers me her room for the rest of my visit.
Thank you, Kathleen.
Today I plan to attempt central London. Check out Teamwork, a photographic supply company. See what's what in modern digital studio equipment.
Adrian has already filled my easily led head full of paranoia about the difficulty of finding a free place to legitimately park my motorcycle within the congestion zone. Seems one needs to electronically pay in advance for even motorcycle parking … jayz, how's a visitor from afar supposed to do that? As a visitor from afar, do I need to pay any heed to all that? But then again, Uk Big Brother State monitors everyone, everywhere, all of the time … will instantly know and issue a fine … or worse clamp, impound, reduce me to tears, if I cross the line!
Receive a message from Ronson in Ireland, asking me (whilst you're having fun in London, Dad) to pester Charlie at Geomoto Suzuki, Finchley, about the hoped for arrival in West Cork of Ronson's under-warranty-replacement DRZsm digital instrument panel. The Lad has his final motorcycle test in Skibbereen in August … needs working clocks on his motorcycle. It'd be nice to drop in on the helpful Aussie, Charlie, at Geomoto, after checking out Teamwork.
Odometer 70678. 2347 road miles from Floriana.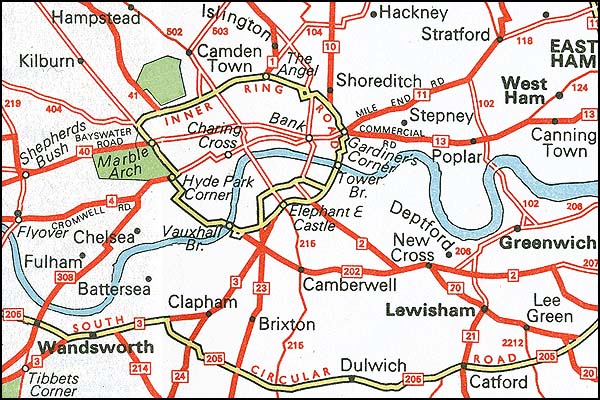 It has been so long since my former life of regular riding in central London ...
Check again Ade's big A-Z for the sanest route through 21st century London from Lewisham to Foley St, W1.
Could things have changed so much since the old days ...?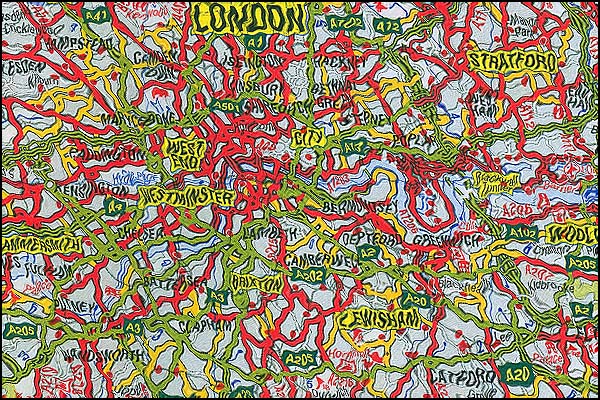 Yikes !
Prepare self mentally to penetrate the congestion zone.
Set off for real.
Immediately becomes apparent that riding in London is no longer anywhere near as much free flowing fun as it once was. Hardly off of the side streets and onto the main road to Lewisham and already one speed camera spotted. Filtering though midday traffic, dense and slow. I turn off into Tanners Hill, SE8, take an in-passing-peek at another place where I once lived.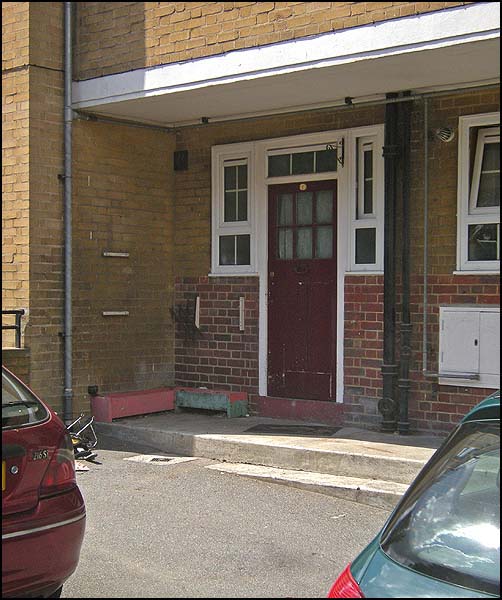 Leave that past to its present.
Head on down through Deptford, left along Creek Rd/Evelyn St to Rotherhithe, Jamaica Road, across Tower Bridge, past The Tower, goggling at it all as I pass by and into the city. So much new stuff gone up that I'm soon disorientated and trying to match what I see with what my memory tells me should be/once was.
London is very, very much changed from way back in '92 when I last lived in Deptford. Everywhere has sprouted surveillance cameras and speed cameras and this and that zone signs and pc measures in evidence all over the place. Cor-blimey. What a confusing mess it has become!
Find my way through to WC1 … Concentrating on where I'm going, filtering through between stationary traffic, three riders coming down the white line towards me, we glide by each other … did I imagine hearing 'Hello Graham.' from one of them?
Surveillance cameras everywhere.
Now … the voices, in my head.
Totally forget to go to the virgin Megastore and buy myself a copy of William Orbit's latest 'My Oracle lives Uptown.'
Find Foley St, W1. Parked up outside Teamwork, a mature despatch-rider on a scooter watches me, then, gesturing at the 900, says,
"Don't see many of those about anymore. Like the all black and well'ard look."
Of course, he's been dispatching for years, and of course, he once dispatched on a Nine. Though nowadays he finds the scooter the most practical tool for the task. Then he spots the Maltese plate. Demands the explanation – flashes me a look of mad admiration.
"You've travelled two-thousand-three-hundred miles to get here … and you're worried about parking. Stick it on the shops bit of pavement, mate … an'the fekkers can't touch'yer."
So I do – and They don't.
Teamwork salesmen eager to show me what's available. Spend a happy hour or so investigating modern photographic toys. Out into the daylight. Head full of digital back and camera and lighting combination costings.
900 remains alarmed, but unclamped or ticketed.
Had enough of Central London Madhouse motorcycling. Concentrate on finding my way south across the river, to the Elephant & Castle, Old Kent Road, New Cross, Lewisham, Adrian, back from his days work, feet-up watching live coverage of The Ashes. Tea & biscuits. Phone yer man Charlie at Geomoto, he assures me Ronnie will get his replacement in time and that the handguards for my DRZ will soon be on their way to me in Malta.
Settle back and watch the cricket until bad light stops play at just the right time for Ade & I to walk to Lewisham to meet Mary at a Turkish restaurant, that serves us Jolly Good Turkish food and Very Pleasant gin & tonic.
Sated and somewhat intoxicated we wend our way home. Adrian assuring us that he knows a thing or two about ants … because flying ants are filling the air this evening, Ade explains, is a sure sign that there's bound to be heavy rain later tonight.
Yes Adrian.
By the time we walk up to the front door, there's the first flash of lightening, followed by a rumble of thunder. Soon the heavens open and heavy rain is falling.
Yes Adrian. You do know a thing or two about ants.
Later, uneasily, in an odd, old interloper sort of way, settle into teenage girlies accommodations … which actually turn out to be alright, and not at all pink and fluffy or scented or fussy.
Awoken at 1.30am by the thwoka-thwoka thunder of the Copper Chopper hovering overhead close by, its night sun lamp illuminating some goings on somewhere below. Multiple siren sounds converging on the ground … feck!HopeTheyAin'tCominFerIllegalParkerMe! After an age of sleep disturbing thwoka-thwoka hovering and siren wailing, the audio drama moves off towards Greenwich … leaving me in peace to fall asleep pondering a life lived in London.